European tourists defy Coronavirus restrictions in Sassandra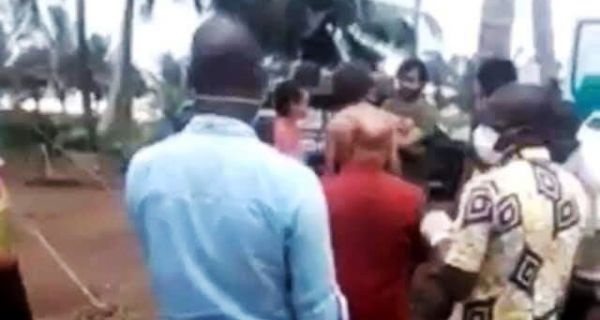 18 Europeans campers stranded in Sassandra (Ivory Coast).

Reports from the ministry of maritime affairs are sketchy, as Minister Philippe Légré himself is seeking answers.

The Secretary of State to the Ministry of Transport, in charge of Maritime Affairs, Philippe Légré, revealed Thursday, the presence of 18 European nationals arrested by the maritime police in the resort town of Sassandra, on the South-Western tip of the country.

Whilst the case is taking a life of its own due to the Covid-19 confinement measures set in motion by the government, the origin of these individuals presented as illegal immigrants by some and campers by others, and their presence in Sassandra is baffling, to say the least.

According to the minister, these 18 individuals were found in Godiéco, a seaside village of the sub-prefecture of Sassandra. They were immediately deemed suspicious due to prohibiton of excursions on the beaches of Côte d'Ivoire.

"People don't know how they got there. Did they travel legally? Were they screened? What is their destination? Their vehicles are parked on the beach, but nobody knows how they got here," says Légré who, immediately alerted the ministries of defence, security, interior and health.

In collaboration with the regional prefect, he decided to confine these rather peculiar guests to where they were initially found, to avoid any contact with the local population until they are screened by a medical team which would be chartered to the area.

"We have decided to confine them to where they were discovered and to send medical practitioners to screen them, then driven under gendarmerie escort to Grand-Lahou and Abidjan," said the minister who added that these 18 people claimed, they departed from France, across countries such as Spain and Italy to Guinée and ended up in Côte d'Ivoire.
"In a situation such as this, where the whole country is mobilizing against coronavirus, we cannot accept such a presence. We have to protect our populations, so we make sure that protective measures are not taken lightly".

As Minister in charge of Maritime Affairs, I instructed my personnel to monitor the lagoons and maritime flanks of our country. Vigilance remains the order of the day, so we cannot tolerate such behavior", Philippe Légré hammered home, his recommendations.

It should be noted that the EU ambassador, Jobst Von Kirchman, reacted to the news of the arrests by stressing that they are not Italian illegal immigrants, but campers, nationals of various European countries and Brazil whose case had already been reported to the Ivorian government. He assured that efforts were under way to safely take them to Abidjan.
Published By ivorycoasttribune.com
27/03/2020 @ 12:46