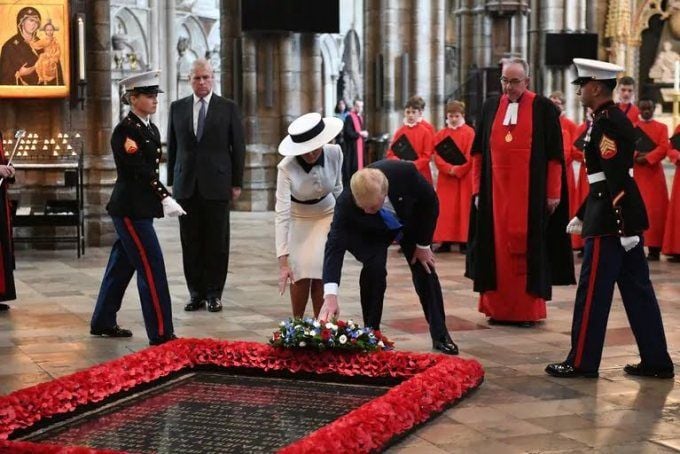 June 3rd, 2019. US President Donald Trump and fisrt Lady Melania laying a wreath of flowers at the tomb of the unknown soldier . /Getty images
He showed up in London. guns blazing and shooting straight from the hips with a retaliatory tweet lambasting the mayor of the host city:
"Sadiq Khan, who by all accounts has done a terrible job as Mayor of London, has been foolishly 'nasty' to the visiting President of the United States, by far the most important ally of the United Kingdom.
"He is a stone-cold loser who should focus on crime in London, not me".
"Kahn reminds me very much of our very dumb and incompetent Mayor of NYC, de Blasio, who has also done a terrible job - only half his height.
"In any event, I look forward to being a great friend to the United Kingdom and am looking very much forward to my visit. Landing now."
A brutal reply by earlier comments by the Mayor who had this to say: "From rolling back women's reproductive rights to defending white supremacists and far-right nationalists - President Trump's behavior flies in the face of ideals America was founded upon.
As the US's closest friends we have to speak out"
Just as the main character of "Jango Unchained" the POTUS dubbed the most controversial US president in modern times never shies away from a thunderous entrance,
Then, off he was to meet the Queen, Prince Charles and the Duchess of Cornwall at Buckingham Palace. Many were preparing to protest against the President during his visit to London egged on by Labour leader Jeremy Corbyn, but others have advised British people to remain polite.
While the very public spat between the mayor and the president is looking more like a childish schoolyard display of rivalry, it is important to remind Trump that although he thrives on being in the spotlight, the holder of the powerful office in the world should rise above such criticisms.
On the other hand, the mayor of London needs to be reminded that his needless display of contempt to Trump, a democratically elected President of Uk's most trusted ally is not only demeaning to the American people but a disgrace to the whole of the United Kingdom.
Claude B. Djaquis
I.T Editor-In-Chief