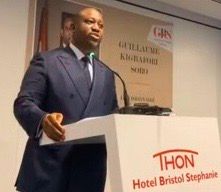 Guillaume Soro campaigning in Brussels this past Tuesday before a parterre of Belgian personalities.Photo/censors.
Ivory Coast Tribune is now reporting that Guillaume Soro, President of (GPS) Generations et Peuples solidaires, was this Tuesday, November 26, 2019, in Brussels before an audience of political figures, diplomats, media personalities and Belgian entrepreneurs after his meeting days earlier with Charles Blé Goudé.

The Ivory Coast 2020 presidential election candidate spoke at length about his motivations, then defined his priorities and policies. He wants to engage with Ivorians in building a nation in a favorable business climate.

"I am here to engage with all Ivorians in building our nation and a conducive business environment. We want a relationship with the world. If I'm in Brussels it's because it's an important capital" said Guillaume Soro.
Worried about the outcome of the next presidential election, Guillaume Soro pointed out that the wars in Africa start from poorly organized elections.The president of GPS insisted that the Independent Electoral Commission (IEC ) "could burn Ivory Coast if it remains in its current configuration".

"Generally in Africa, wars are the result of poorly organized elections. Côte d'Ivoire my country, which experienced a post-election crisis in 2010 with more than 3,000 deaths, is now worried about the 2020 election. Our current Independent Electoral Commission is far from independent. President Alassane Ouattara chose to appoint his friends and members of his Party to the commission. "This electoral commission will burn Ivory Coast and cause unfortunate deaths if it does not meet international standards. This is what I want to avoid. I have come here as a whistleblower ".
Published by Ivory Coast Tribune
27/11/2019 @ 01:26