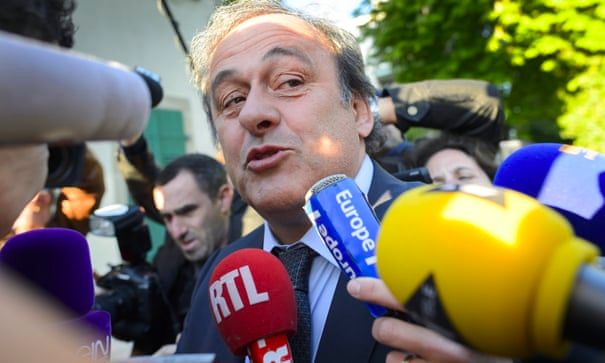 Michel Platini detained over award of 2022 World Cup to Qatar
David Conn
Tue 18 Jun 2019 10.20 BSTLast modified on Wed 19 Jun 201901.02 BST
The former Uefa president Michel Platini, pictured in 2016. Photograph: Fabrice Coffrini/AFP/Getty Images.
Michel Platini, the banned former Uefa president and France football legend, has been detained in connection with a criminal investigation into alleged corruption relating to Fifa's decision to host the 2022 World Cup in Qatar, French justice sources have confirmed. Platini's detention was first reported by the news website Mediapart on Tuesday morning, with Claude Guéant, the former secretary general of the Élysée Palace under the presidency of Nicolas Sarkozy, also being interviewed as a "free suspect".

Another adviser to Sarkozy during his presidency, Sophie Dion, was alsodetained for questioning.
The detention of Platini, who voted for Qatar to host the tournament, represents the first substantial public move in an investigation into the 2022 decision opened two years ago by France's Parquet National Financier, which is responsible for law enforcement against serious financial crime. According to the judicial sources, the PNF is investigating possible "private corruption", "criminal conspiracy" and "influence peddling and trading in influence" over the December 2010 vote, which are categories of corruption in French law.

Platini's representatives issued a statement stressing he had not been arrested – which was confirmed by the judicial authorities' source – and that the detention was for a "technical" reason to maintain the confidentiality of the interview. The statement said Platini had also been questioned about Uefa's award, by a single vote, of the 2016 European Championship to France. Platini was said to be "absolutely confident" that he had done nothing wrong and "had nothing to reproach himself for".
A main focus for the investigation is reported in French media to be the lunch Platini has acknowledged publicly he had with Sarkozy and Tamim al-Thani, the current Emir of Qatar, on 23 November 2010, less than a fortnight before the Fifa vote for the 2018 and 2022World Cup hosts. At the time, France was seeking strong economic links with mega-wealthy Qatar, and Paris Saint-Germain, the club Sarkozy supports, were in decline and financial difficulties.
Platini has said he understood Sarkozy wanted him to wield his Uefa vote for Qatar but denied that he was influenced. In an interview with the Guardian in 2013, Platini said of that lunch: "I knew Sarkozy wanted the people from Qatar to buy PSG. I understood that Sarkozy supported the candidature of Qatar. But he never asked me, or to vote for Russia [for 2018]. He knows my personality. I always vote for what is good for football. Not for myself, not for France."
The then Fifa president, Sepp Blatter, has said Platini told him he had changed his vote from the USA to Qatar after the lunch, and that a decisive three further European Fifa executive committee members changed their vote to Qatar. Platini did say in 2015, when he was a candidate to replace Blatter as president, that he "might have told" US football delegates previously that he would vote for their bid but he has denied changing his mind because of the lunch.
A fortnight ago in Paris before the Fifa congress, Platini told the Guardianthat he had made his mind up to vote for Qatar before the lunch. His son, Laurent, in 2012 joined the Qatar sportswear company Burrda, owned by Qatar Sports Investments (QSI), as the chief executive, which Platini has always denied had anything to do with his vote, or represented a conflict of interest.
After Qatar's shock victory in the Fifa vote, QSI did buy PSG in 2011, and the Qatar sovereign fund has since funded the club to a massive degree, enabling them to sign Neymar, Kylian Mbappé and other stars, and become a European football power. National links between the two countries were also strengthened; in 2011 Qatar Airways bought 50 A320 neo-family planes made by Airbus at its factory in Toulouse, an order reaffirmed in December 2017. Guéant and Dion are reported to have been at the November 2010 lunch, as Sarkozy advisers. In 2015, Sarkozy responded to questions about the Elysee palace lunch by scoffing that it was an exaggeration of his power to suggest he could influence Platini.
Platini and Blatter were banned from football activities after Platini was paid 2m CHF by Fifa in 2011; both men claimed it was in payment for Platini's work as a Fifa football adviser, which he had finished nine years earlier in 2002. Platini continues to protest his innocence of any wrongdoing in relation to that payment, and has mounted a series of legal appeals against his ban, which is due to expire in October.