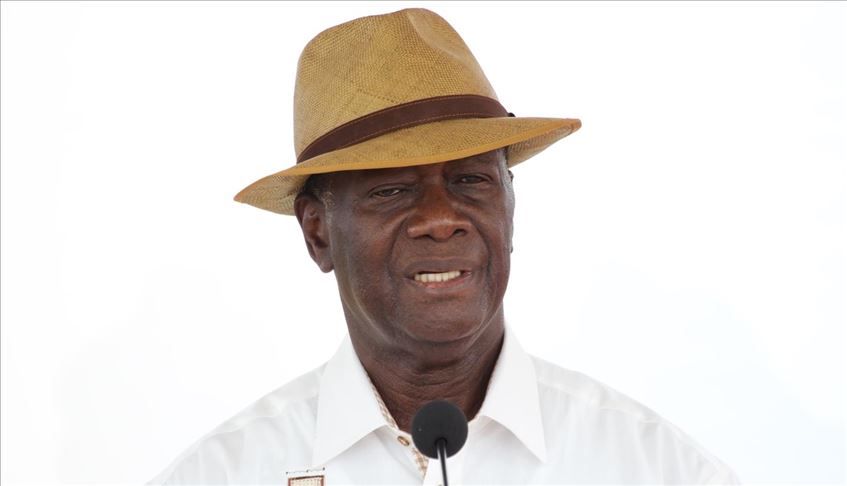 Ouattara. I have the right connections for the job.
Posted by Ivory Coast Tribune. August 03, 2019 .
Alassane Dramane Ouattara. More than 25 000 billion FCFA of investments brought into Ivory Coast in eight years.
Photo:AIP
For an incumbent who is fast reaching the end of a second term and promised to pass the baton to a younger generation, President Ouattara sounded more like a candidate on the campaign trail than the man who, not long ago was promising to decide whether or not he would seek reelection by the fall of 2020.
Ivory coast's President Alassane Ouattara sounded upbeat whilst assessing his eight years in office.
"We have only been in office for eight years, but We have brought more than 25,000 billion FCFA of investments into our country. And the region of the Mé has gone from 100 to 150 billions of investment. All sectors will benefit from these investments. Ouattara said he had the right connections to do the job.
The President was speaking at an inauguration ceremony of the carriageway Adzopé-Yakassé Attobrou (South-East of the country), 25 km long for an overall cost of close to 16 billion FCFA. Previously, Mr. Ouattara proceeded in the same locality to laying the foundation stone of the Regional Hospital Center (CHR) of Adzopé.
"No region will be forgotten in our permanent desire to share the fruits of growth ... I will do more and better".
Mr. Ouattara concluded by reiterating his commitment "for the economic development of our country".
In a week where former Ivorian Presidents Gbagbo and Bedie met in Brussels, topped by Bedie himself doing the rounds of major Media in France to talk at length about his newfound love for life in the opposition, Mr. Ouattara could not have found a better subject to galvanize his base.
Again, we all wish for 2020 to get back to the slippery slops of Ivorian politics. May the best just win without any bloodshed…This time around.