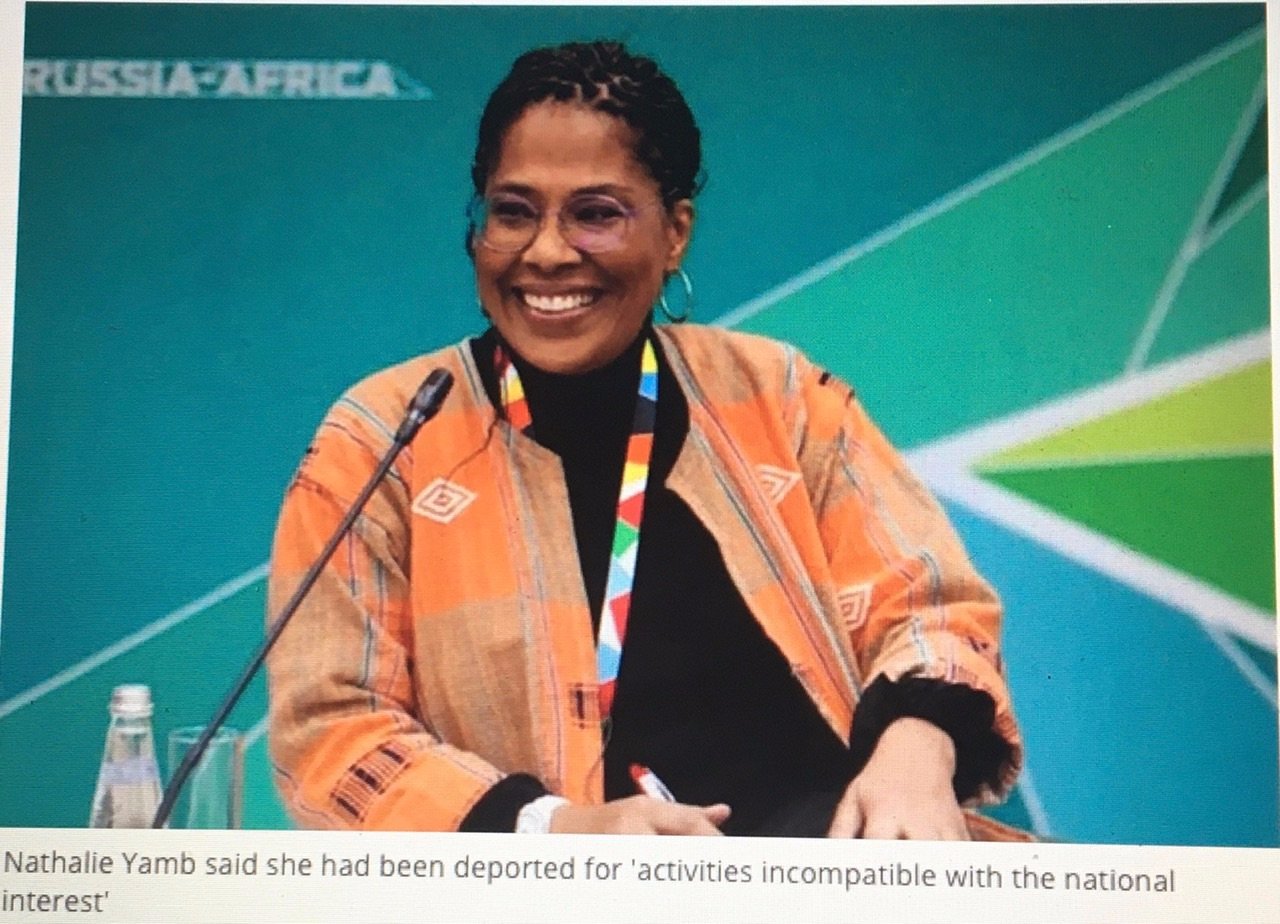 Ivory Coast Lider party member expelled from the country for "activities not compatible with the interests of the State".
Côte d'Ivoire has expelled Nathalie Yamb, a member of the opposition party Lider, and deported her to Switzerland. A month ago she criticised the government of the West African country at the Russia-Africa summit in Sochi.
The political activist, who has a Swiss mother and Cameroonian father, has lived in Côte d'Ivoire for years and advises the politician and presidential candidate Mamadou Koulibaly.
Yamb tweeted on Monday that she had been deported to Switzerland for "activities incompatible with the national interest". Above a photo taken on a plane, she wrote: "History will prove us right. The fight continues."
According to the deportation decision taken by the interior minister, Yamb is said to have undertaken political activities that are prohibited by her status as a foreigner.
Criticism of colonialism
Koulibaly criticised that his adviser had been deported without trial. What's more, he said, foreigners are not banned from being politically active in Côte d'Ivoire – they just can't preside over a political movement.
At the Russia-Africa summit in Sochi at the end of October, Yamb was critical of France's presence in Africa and the government of Côte d'Ivoire.
"France continues to regard the African continent as its property," she said, adding that under the pretext of defence agreements the French military bases serve to plunder resources, maintain rebellions, train terrorists and keep dictators in power.
Foreigners have long been accused of mingling into Ivory Coast politics without that assertion being dismissed. Mamadou Koulibaly is the first politcal actor quoting the fundamental laws of the land to support his case.
"History will hold that [President] Alasssane Ouattara, who has made his career on charges of xenophobia against him, is himself a xenophobe. Nothing prevents a foreigner from engaging into politics. It is simply forbidden to be president of a political party, " said Koulibaly, recalling that Ms. Yamb had been living in Côte d'Ivoire for many years. She worked there for a Mobile phone company, before " she decided to contribute fulltime to winning the fight which will lead to a new Africa, the emancipation of its people" .
"obsolete defense agreements"
"Her fight does not end in Abidjan. On the CFA franc, for democracy, for human rights, against military bases that we can hardly stand. We have robust, harsh words, but it is our role as members of the opposition , "he continued. "Her expulsion aims to weaken Lider in an election year," before the 2020 presidential candidate concluded.
Keystone-SDA/ts/ Updated by ivory Coast Tribune 11/12/[email protected]:51