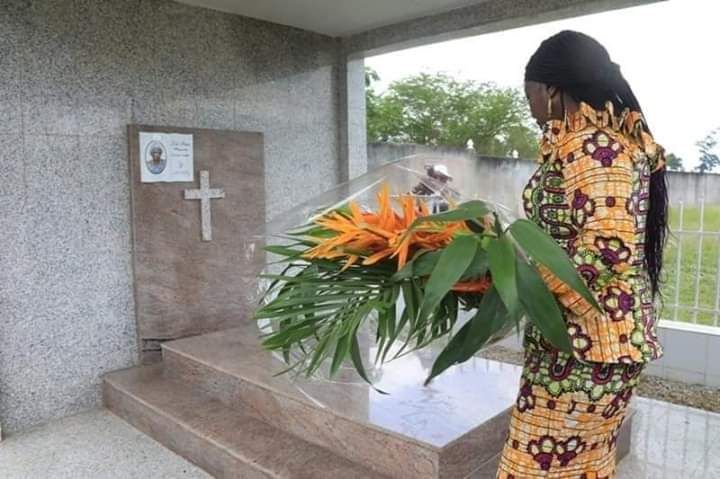 Minister Kandia Camara laying a wreath of flowers on Margueritte Gado's grave. Time may have healed the wounds of division in Ivory Coast?
Minister Kandia Camara in Blouzon: "something extraordinary has just happened in our country; the reconciliation process we have initiated a long time ago has just materialized here in Blouzon. I would like to thank my bosom buddies (dubehia) of Blouzon. None of this would probably have happened if it were not for you. I wished your actions could inspire the whole nation".
Minister Kandia Camara on Margueritte Gado's grave.
Photo: IPA.
At the heart of her statement lies the difficult issue of consolidation of peace and post-war reconciliation in Ivory Coast. Following the post-electoral crisis of 2010, all attempts to reconcile Ivorians have been met with mixed emotions, especially after multiple failures to implement findings of the fund consuming truth and reconciliation commission (CDVR) headed by former Prime minister Konan Banny.
Time seems to have played its part in this long-running saga between dodgy politicians on one hand and a population, collateral victim of armed conflicts and failed promises.
Early this year, Laurent Gbagbo and his loyal ally Charles Ble Goudé were acquitted of crimes against humanity by the ICC, although conditionally, pending a probable appeal by the office of the prosecutor.
It is in this atmosphere that, On a visit last week to Bayota in the heart of Gbagbo's stronghold of the Gagnoa region, Minister Camara splashed out millions on women empowerment NGOs, then took time to pay respect to the late Margeritte Gado (Gbagbo's mother) family. A major PR coup for obvious reasons but above all, a true sign that tides are turning as we as a nation, need peace and reconciliation…At last.
Claude B. Djaquis
I.T Editor-in-chief
25/06/2019