The tragedy occurred On Saturday, May 23, 2020 in Cocody. An entire family (dad, mom and a child) was fatally mowed down in the Cocody neighbourhood by a driver who lost control of his vehicle. The woman full of life will be sorely missed by the nation for her efforts in treating children. On an early morning jog with her husband and their teenage son, she was run over by a vehicle driven by a man returning from a night out on the town, drunk and without a driver's license.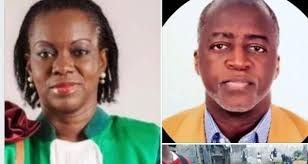 Outraged by this tragedy, the Minister of Transport and the Prosecutor's office promised to enforce the law in all its rigour on the occupants of the vehicle, whose alcohol tests were over the limit.
According to an eyewitness report, the family was out for a morning jog when they were mowed down by a vehicle with four (04) occupants. One girl and three men returning from a night out in bars pohibited by law in light of the COVID-19 measures.
Aboard their Hyundai Tucson, they were driving at excessive speed on the 205 expressway connecting Soleil 2 and Caféiers 8. They missed one of the many exits on this carriageway and went off the road. A rollover ensued, during which, they mowed down the three (03) joggers who never had the chance to see the danger coming. The shock was so violent that the victims were thrown several meters apart. Alerted by witnesses, firefighters and law enforcement could only confirm the death of the small family.
As for the occupants of the vehicle, they were apprehended by law enforcement officials for investigation.
Laurence Ya Adonis-Koffi was a professor of paediatrics specialising in nephrology at the Yopougon University Hospital Centre (CHU). She has made herself known to the general public for her fight for children with kidney disease. A fight that has been going on for seven (07) years. She founded the first specialized unit in French-speaking sub-Saharan Africa in 2009 and is a founding member of the French Association of Ambulatory Pediatrics (AFPNA). She piloted a project with technical and financial partners on kidney transplantation in children in Côte d'Ivoire.
Her husband, Guillain Koffi, is a businessman appointed Managing Director in January 2017 of Compagnie des caoutchouc du Pakidié.
ivorycoasttribune.com