Ivory Coast: Special forces "neutralised" by unarmed cops?
Futuristic Ivory Coast "Special Forces" during Independance day parade on August 7th, 2019.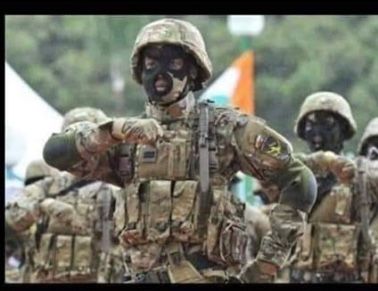 Squad members shielding from photographers after they were forced into submission by police. Female police constable slapping "Special Force".
Photos by censors.
Hailed as the men and women of last resort if Ivory Coast was ever confronted with forces able to neutralize our police and gendarmerie, this futuristic "army" was seen on independence day, parading to their own drum beats and songs with the gait of the North Korean army in slow motion, complete with pounds of tactical gears and painted faces.
They are the Ivory Coast "Special Forces".
Thursday, September 19, 2019, will not be remembered as a positive milestone in their history as they were humiliated by unarmed cops at the Prefecture the police in Abidjan.

As the Tribune can report from multiple sources, one of their own had been rounded up along other common criminals in a drug den by newly appointed security Minister Vagondo's men keen on cleaning up the city.
In a revenge show of force, an eleven men strong "Special Forces" squad, with 22d century weaponry, attempted by some ill-advised thought process to free their comrade from custody. The police lying in wait offered them the comeuppance of their lives.
A couple of days later, uncontrolled elements of the "Special Forces" launched an assault on a police exam center in Cocody.

After the element of surprise, the police quickly organized themselves to fight back. Forced to engage in close combat, several elements of the "Special Forces" were identified when they lost their balaclavas. Again, the police had the upper hand.
Fortunately, no shots were fired during both ill-fated blunders, but it is about time the "Special Forces" remained special indeed!
Published October 7, 2019.
By Claude B. Djaquis
I.T Editor-in-Chief