GAGNOA-Ouragahio. From Lomé, a child is drugged, kidnapped and enslaved in Dahiepakehi.
Adjakpa Sébastien, father of 4, farmer living in Dahiepakehi (Ouragahio) and native of Benin, returned to Ivory Coast not long ago with a 14 years old named Abdramane Moukahila, reportedly missing from the Togolese capital.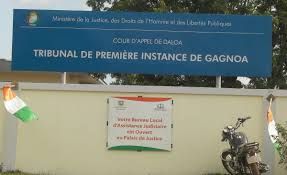 Photo/I.C /Gagnoa lower Court
Abdramane Moukahila who lived with his uncle in Lomé was a street merchant . Like any good salesman who travels daily across the capital of Togo, he was hailed by a customer, one Adjakpa Sébastien. Their exchange was about anything and everything. In a strange turn of events, as if hypnotized the young salesman obediently followed the new friend to his home in Tédji, in the neighboring country of Benin.
Abdramane Moukahila recounts that upon arrival at the man's home, he met his father who offered him drinking water from a bottle of coca cola. He only regained consciousness at the border with Côte d'Ivoire. Only then, he was fed some food. At the village in Ivory Coast , he has been treated as a slave in farms and fields in rural Mid-West. Unable to bear the load of duties, he tried to flee several times . Recounting his story in the presence of his biological father and the public, he claims to owe his salvation to Mory Abdoulaye, the leader of the Burkinabe community who agreed to help him escape. After notifying the gendarmerie in Ouragahio, the family was alerted back in Benin, but unbeknown to him, photos and reports of his disaperance were already on Social Media Networks.
During questionning, Adjakpa Sébastien claims to have given the sum of 120,000 FCFA to an individual who introduced himself as the maternal uncle of the child in question. The latter would have entrusted him with the guardianship of the child to take him to Côte d'Ivoire for work.
Accused of the crimes of human trafficking and abduction of a minor child in Togo, Adjakpa Sébastien was found guilty on all counts and sentenced to ten (10) years in prison, 10.000.000FCFA and one million (1,000,000 FCFA) in damages to Mr. Batsiri Moukahila, the minor's father; the maximum penalty in view of Articles 4-1°, 6 and 7°, 9 and 11 of the Law of 2016-111 of 08/12/2016 on the fight against Human trafficking and 430 of the Penal Code, for flagrante delicto on October 29th 2019.
Published by AKOTO G. Investigative Reporter for Ivory Coast Tribune