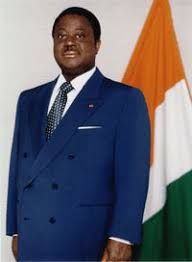 Henri Konan Bedié and the pandora's box of Ivorian politics.
When confronted with a past littered with lazy, incompetent academics and theoreticians, politics as usual will never cease to prosper to the delights of demons and scavengers of a society on its knees.
Once the West African beacon of prosperity, Ivory Coast has been humiliated and disfigured by 10 years of a bloody crisis followed by nine years of "Negative Peace" riddled with frustrations due to an absurd concept of "Rattrapage" (putting right all the wrong of the past). It was pulled straight out of the political laboratory of the Rally of Republicans (RDR) who, since the death of Felix Houphouet Bouagny, the founding father of modern Ivory Coast, have not shied away from claims of exclusion.
Of course, Ivory Coast has come a long way, but it now seems so near to the abyss of the dark years of its recent past.
As President of Ivory Coast, Henri Konan Bedie, very much aware of disparities in his nation and conscientious of the fact that blending cultures of such a multi-ethnic country could only be for the greater good of it's people, attempted to implement the concept of "Ivoirité". A term coined in the 1970s by Ivorian culture icon Niangoran Porquet (1946-1995) in his quest to bring to the forefront his "Griotic" sound also called "N'zassa", a synthesis between the art of the Griots (Afro-Mandingo storytellers) of the North and that of the southern "Tam-Tam parleurs" (Speaking drums).
According to the late Ivorian poet, writer and playwright born of the union of a Northern Malinké mother from de city of Boundiali and a Southern Nzima father from the World heritage resort city of Bassam, the word only had a cultural connotation highlighting an aesthetic based on the mixture of the peculiarities of the different ethnic components of Ivorian society.
Unfortunately, politicians would gradually shift it's meaning from an inclusive connotation to the divisive meaning the world has since come to discover.
On 26 August 1995, "Ivoirité" was introduced into politics by Bédié at his party (PDCI) convention in Yamoussoukro. During his speech, he spoke of the need to redistribute Ivorian riches between all regions of the country in order to achieve an egalitarian society, thus empowering Ivorians in their characteristics of typical Ivorians or identity: their "Ivoirité ", just as "Britishness","Francité" or "American way of life in other parts of the world.
What a noble idea!
The following year, academics, close to the PDCI will tag the word with its so-called xenophobic connotation.
Initiated by Saliou Toure a Northerner, the book "Ivoirité or the new social contract of HKB is published in conjunction with contributions from the CURDIPHE (ThinkTank, so-called pro-President Henry Konan Bédié), philosopher Niamkey Koffi and Bedie's chief of staff Jean-Noel Loukou.
The book is mostly about defining an Ivorian nation based on origins while establishing in barely veiled terms, an ethnic hierarchy based on the date of arrival on Ivorian soil. It was not what the great Niangoran Porquet meant. The book is a missile of hate, holding foreigners responsible for crimes, having a monopoly on several economic sectors and taking jobs from Ivorians.
The book turned into a gift to those who live and die by greed and grievance. Opposition candidate Ouattara who, as a prime minister had been at loggerhead with Bedie on who should succeed President Houphouet Bouagny, seized the opportunity to claim he was excluded from Ivorian politics because he is Muslim and from the North.
This love and hate relationship fuelled by divisive political discourse reached it's climax during the 2010 presidential election after a decade long of failed coups and rebellion, causing 3000 dead according to UN reports during a bloody post-electoral crisis. Both Ouattara and Bedie finally reconciled to defeat their common circumstential enemy Laurent Gbagbo.
Who, in 2019 could have believed that exclusion, xenophobia and "Ivoirité" would still be debated in this "Land of hope"?
The waves of dissent within the RHDP have since helped crumble the bridges of unholy alliances, in addition to President Ouattara's unwillingness to take the bull by the horns and tackle the sensitive issue of true Reconcilliation.
In his latest comments, Henri Konan Bedie is back at it, as one would say, speaking about an invasion of armed foreigners, illegal mining and massive fraud on Ivorian nationality.
This is 2019, sixteen months from a presidential election without Alassane Ouattara who cannot run for a third term. The government condemns what it calls xenophobic remarks from their former ally who meanwhile has been entertaining a "Bromance" with Laurent Gbagbo of the FPI, acquitted by the ICC of crimes against humanity allegedly committed during the post-electoral crisis of 2010.
Who knows what the immediate future holds? Or just maybe Ivorian academics, inspired by their past failures, will be more convincing in their persuasions of a nation in search of this heaven-sent son or daughter who could sow the seeds of social cohesion, for a lasting Peace and sustainable economical growth in one of the rarest countries on earth with a population of 23Millions, of which 6Millions (26%) is of foreign origin.
Published May 16,2019/ Updated. By Claude B. Djaquis Editor-in-Chief
ivorycoasttribune.com / [email protected]