Abidjan - Ivory Coast justice minister and the presiding judge of the Abidjan tribunal are reportedly in a critical condition after a horrific crash.
The accident occurred on Sunday, August 30, 2020, at around 2 pm, 15km from the town of Toumodi on the Northern Highway from Yamoussoukro to Abidjan.
Six members of the minister's entourage were killed on the spot, including one from his security details.

according to sources, among the victims in critical condition to date, is Judge Cissoko Amoulaye, whose driver and bodyguard also perished. The judge was reportedly taken to the Pisam hospital in Cocody.
The minister and the judge were recently at the center of a media storm when Mr Kambilé swore at the national assembly that under the 2016 constitution, outgoing president Ouattara would not be allowed to run for office in the upcoming October 31st presidential election. Then, the President himself made a 360 degrees turnaround by claiming he had the right to do so, after the death of his successor Amadou Gon Coulibaly.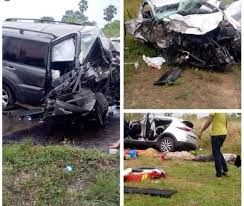 As for Judge Moulaye, he is indeed the infamous magistrate who pompously sentenced former president Laurent Gbagbo, his youth minister Charles Blé Goudé, former Prime Minister Soro Guillaume and many other high profile politicians to 20 years imprisonment in absentia in recent years.
As we await the inquest in these unnecessary deaths by accident on Ivorian roads, we extend our condolences to the families of the deceased and wish a quickl recovery to the injured.
ivorycoasttribune.com