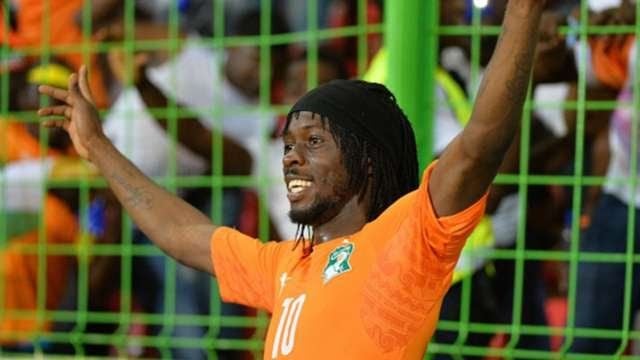 Is Gervinho on the verge of missing out on AFCON?
The non-selection of Ivorian footballer Yao Kouassi Gervais for Egypt 2019 African Cup of nations has been fueling debates in the footballing world up and down the country and even beyond due to his brilliant performances in the Italian first division. The absence of this key player from the "Elephants" at the most prestigious round-robin meeting of stars in the continent, has not been welcomed by all.
This latest non-selection of a major star by coach Kamara has echoes of recent acrimonious high profile departures of Drogba, Yaya Toure and Zokora from the national team. Rumors have it that they may be settling scores at the "glass building" in Treichville.
According to close associates of the player, current heads of the Ivorian Football Federation are at loggerhead with the Parma FC midfielder. Sory Diabate and President Sidy Diallo in particular, are still reeling from a case dating back to 2017 involving the player.
Gervinho is believed to have interests in a division 3 football club, part of a group of owners called the "GX" bent on removing Sidy Diallo, the current head of the Ivorian F.A from his post.
Ivorian Football bosses are thus not ready to be associated with a player they consider a staunch "opponent".
Also, public criticism of the IFA and support from Didier Drogba for the "Jaguar " of Ivorian football has also fueled the flame of discord. Furthermore, Gervinho was embroiled in controversy during coach Wilmots era around captaincy issues with Serge Aurier. Although from the player's corner, the latter are just pretexts to exclude the player who had already been forgiven by his teammates for dressing room spats.
Will the football association change its mind so as the interest of the nation prevails because of public clamor or will Gervinho be " humiliated" just like Drogba, Yaya, Kalou ... from the so-called "golden generation"?
As one of his relatives would say: "The non-selection of Gervinho for CAN 2019 is unacceptable. But we knew he would not go to Egypt because Sidy Diallo did not appreciate his criticism of the FA in the media after Drogba's departure. He (Sidy Diallo) put his interests before the interests of my nation. In the end, Gervais was humiliated as Drogba, Yaya, Salomon Kalou, etc ... But history holds that he did a lot for "Les éléphants".
Gervinho, just like Didier Drogba, Yaya Toure, Salomon Kalou, Emmanuel Eboue, Didier Zokora or even the former coach Hervé Renard, winner of CAN 2015 seems to have ended his adventure with the "orange selection" in frustration.
By Ivory Coast Tribune
Sunday June, 2019