Gagnoa: District Hospital stock of drugs up in smoke!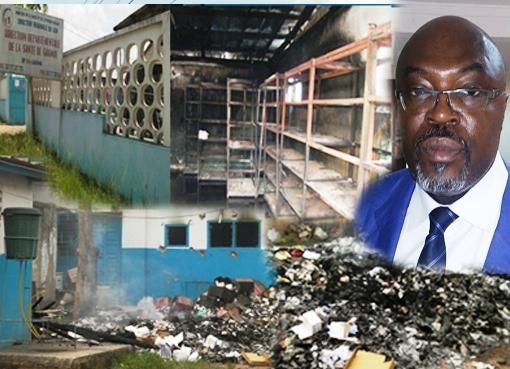 Drugs which value could be estimated at hundreds of millions of CFA have gone up in flames. In a hospital sheltering several offices. Sources are telling The Tribune that Nobody can explain how the fire engulfed exclusively a warehouse containing drugs destined to the PSP ( Public Health Pharmacy).
What was the cause of the fire? Was it arson or the work of criminals whose sole purpose was to wipe out the trails of recent audits? As always in such circumstances, the public is first to lay blames. They need swift and convincing answers because the whole building was burnt to the ground. To them, the culprit could only be Mr. Boukalo Kouassi Célestin, Regional Director of Health. These accusations are supported by some medical officers who strongly ask the Minister of Health, DR Aka Aouélé for a thorough investigation in this matter.
During our inquiries, reporters on the ground have attempted to interview Mr. Boukalo Kouassi Celestin himself to no avail, or have been told by his Private Assistant: "The Director does not speak to the press. He entrusts his colleagues with interviews if necessary".
Mr. Monney Léonce and Mr. Zakiri B. Jean Marc, both therapists were kind enough to answer some of our questions by confirming: "We are neither authorized to comment on this fire, nor are we on any dammages in our services. We have sent our reports to the hierarchy". According to them, comments and questions should be directed to experts. They were sorry not to be able to discuss the matter further.
At no time did we feel any regrets from Director Boukalo and his associates. They seemed undoubtedly relieved to have gotten rid of us. Given this behavior, one can only wonder if the fire was the sinister work of a known criminal in absolute need for some kind of cover. Why is the Director refusing to speak to the press? Is the Director aware that public scrutiny will not fade until he takes matters in his hands? The actions of this Director are tarnishing the reputation of the Ministry of health. Mr. Boukalo Kouassi Celestin is indeed jeopardizing future presidential projects by Alassane Ouattara for the city of Gagnoa.
The rumor mill is spinning quickly out of control, and the word on the street and even from one doctor who spoke on conditions of anonymity is: " after selling the drugs on the black market, obscure hands might have set fire to the empty storage area to hide the evidence". In any case, the city of Gagnoa is reeling for the truth and waiting for authorities to decipher this enigma.
Published on 9/04/2019.
Updated by IvoryCoastTribune on 11/09/2019.