Today August 12, 2019, the whole nation mourns the death of DJ Arafat, a cultural great. He died just as he lived; fast, hard, on the edge like a shooting star.
Born In a musical household in 1986 in Yopougon, a suburb of Abidjan, Ange Didier Huon was the son of the late music producer/sound engineer Huon Pierre and the Cabaret Singer Tina Spencer, later known as Glamour when she married 80s superstar Keke Kassiri. His Uncle was the late Doh Albert of the famed hit song "Affiba".
It took paramedics more than half an hour to arrive at the scene of the crash in the affluent neighbourhood of Cocody. By the time Dj Arafat was admitted to a nearby clinic, he had already suffered serious brain injuries, according to hospital sources.
Details of the circumstances of the accident are still sketchy, but in one short video posted on social media, the musician can be seen on his beloved blue monster bike, without a helmet, surrounded by his entourage and fans, minutes before the fateful ride.
Posted by Claude B.Djaquis
Editor-In-Chief
I.T
DJ Arafat performed At "Hypnotic Club", moments before his fateful ride. Photo/other source.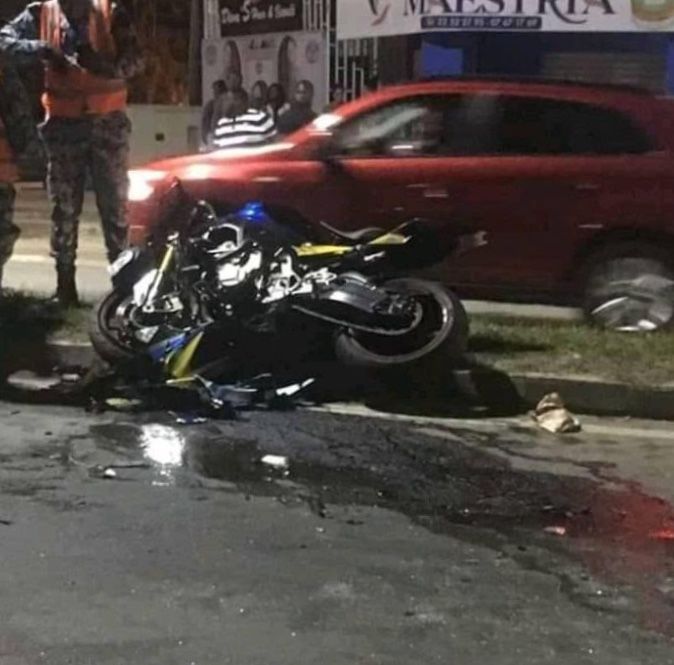 Scene of the crash Sunday night in Cocody.
Photo/other source.
From football icon Didier Drogba to Magic system's Assalfo and French-Ivorian rapper Kaaris, messages are pouring in to pay tribute to the legendary hit maker, multiple awards recipient with eleven Albums and more than eighteen singles.
Dj Arafat gained instant stardom in French-speaking Africa in the early 2000s as the figurehead of the "Coupé-Decalé" musical trend of the late Doug Saga. His hit song titled "Jonathan" was a tribute to one of his friends who sadly also died in similar circumstances.
In addition to his enormous talent, Ange Didier Huon was larger than life on social media which was always buzzing when he "clashed" his mother, his own crew or rival musicians. He will be sorely missed by his millions of followers: " Les chinois".
Posted by Claude B.Djaquis
Editor-In-Chief
I.T