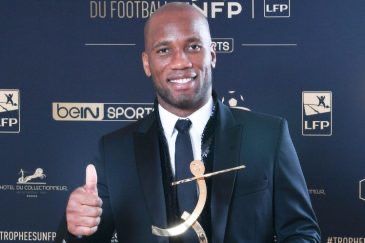 Didier Drogba's bid for Ivorian FA is garnering support
Didier Drogba has been meeting with clubs bosses in Côte d'Ivoire. Photo/censors.
The former Chelsea striker is tipped to head the "FIF" (Ivorian Football Federation).
Although Drogba did not wish to speak to the press, club bosses indicated they were satisfied after listening to a man with a clear vision for Ivorian football.
"He told us of his vision, we are here for the same purpose, the passion for football" said Laurent Boli, president of AFAD (Academy of football Amadou Diallo de Djekanou).
Anzouan Kouakou, president of Séraphin FC: "Didier Drogba outlined his program with great maturity and humility, which I must admit, is very attractive and promising" .
The former Côte d'Ivoire skipper ended his professional career a year ago. He was asked last July by (CAF) President Ahmad Ahmad to join him as an advisor. Then, shortly thereafter he made the annoncement to run for the presidency of FIF to improve the image of Ivorian football.
"I want us to rethink football with a national vision" Drogba told the BBC in September. "This means there is the talent, there is the potential, it is under-exploited".
During the presentation of his ambitious and unprecedented project dubbed " the Renaissance of Ivory Coast football" at Hotel Ivoire, Drogba was unambiguous: " I am not here to divide. On the contrary, I am the candidate for everyone. I am here, so all the clubs in my country can reap the rewards of my project." He then called on all his peers, former stars, for unity and to rally around him. " I understand that some of my older brothers decided to join Sory Diabate. It is their choice. However, I still ask them to think again because I have many projects on the cards for them. They are going thru a lot of hardships. I am therefore ready to help". Among former stars present at the venue were, Alain Gouamene of Senegal 92, Baky Kone, Zoro Marc, Ahmed Ouattara, Badra Aliou Siby, Didier Ottokore, and Akassou Ghislain.
To club presidents who didn't show up, the former Chelsea great had this to say: " I know they have been pressured to stay away. It doesn't matter. Tell them, I will personally meet them. I am convinced that they will appreciate my project which advocates the integral development of our football".
Drogba wants to transform Ivory Coast Football, but he cannot do it without the support of the majority of clubs to whom he wants to offer new infrastructures, Training sessions for their executives, rise in Players salaries, Systematics increase in subsidies and major Sponsors for their clubs.
Published by Bill Walker, Senior Sportswriter.
Ivory Coast Tribune.