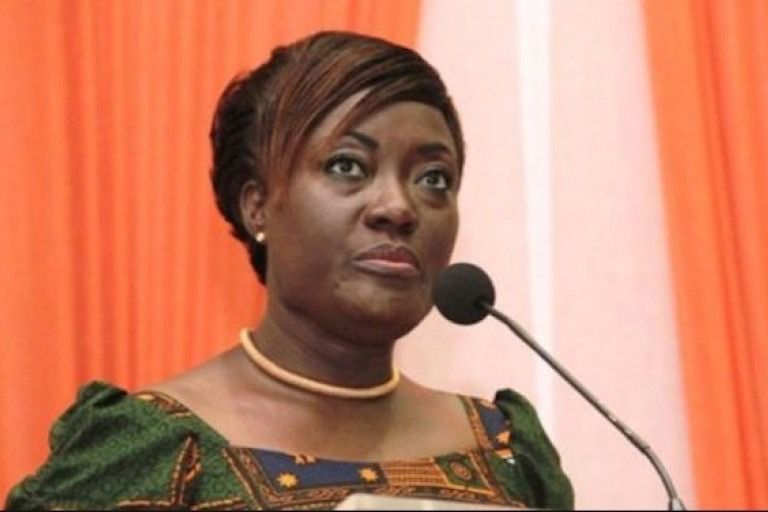 Ivory Coast: National Day of Peace.
Mariétou Koné fears a new post-election crisis due to verbal violence and insults in all political quarters.
Mininister koné/ Photo by censors.
The official ceremony of the 23rd edition of the national day of peace took place this Friday at "place Ficgayo" in Yopougon, North of Abidjan.
The theme of the meeting was: "Beyond Words, Let's Act Together to Create a Peaceful Electoral Environment."
18 Media and civil society personalities were honored on the occasion as knights, officers, and commanders in the order of merit of solidarity.
Presiding over the ceremony, Minister of Solidarity, Social Cohesion and the Fight against Poverty, Mariétou Koné admitted that the theme of the 2019 edition of the JNP was of particular interest for the country. Inviting her compatriots to restraint.
Eleven months from the presidential election in October 2020, Professor Koné is worried about the vitriol within the political class.
"The 2020 election should consolidate socio-economic and democratic gains to strengthen social cohesion and national unity. Unfortunately, verbal violence is rising among politicians. Verbal violence supported by offensive language is of particular concern to us. The premises of a post-election crisis are there to see, "said the minister of social cohesion.
Convinced that no nation can be built-in hatred, she appealed to all for a culture of peace.
"To all Ivorian politicians: cultivate peace and have pity on Ivoirians," the prime minister's representative said to politicians.
Finally, Minister Koné invited every Ivorian to the culture of peace and demanded to translate her statements into concrete actions.
Published by Ivory Coast Tribune.
17/11/2019