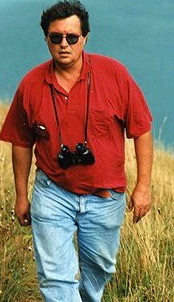 New twist in missing journalist case.
Judicial sources are today reporting that French judge Cyril Paquaux, investigating the 2004 disappearance of French-Canadian journalist Guy-André Kieffer in Abidjan is setting up a new rogatory commission.
On 16 April 2004, Kieffer had an appointment with the now deceased Michel Légré, former first lady Simone Gbagbo's brother-in-law. He has not been seen nor heard from since.
Fifteen years after his alleged abduction, more questions need answers in this murky case, as there hasn't been any progress in investigations by Abidjan and Paris
Memorable dates in the Guy-Andre Kieffer case

April 16, 2004: Guy-André Kieffer goes missing around 13H15 GMT. He had an appointment with Michel Legré in the parking lot of a supermarket in Marcory Zone 4 (Abidjan). He has not been seen nor heard from since.
May 6, 2004: Guy-André Kieffer's vehicle is found at the Félix Houphouët-Boigny airport in Abidjan-Port-Bouët. His laptop is handed over to investigators by Michel Legré and sent to the Criminal Investigation Institute of the National Gendarmerie (IRCGN) in France for forensic examination by judge Patrick Ramael.
May 28, 2004: Michel Legré is indicted for kidnapping and murder in the Kieffer case. He is incarcerated at the Abidjan Detention and Correctional Center (MACA). He will be released on bail On October 28, 2005, On October 11 of the same year, he is indicted in France for " kidnapping", in the same case
In May 2004, Germain Bahagbe, part of captain Oulai's security detail agrees to be a witness for the prosecution then recants his story to later vanish after escaping from the "MACA" in November 2004, during what was dubbed "Metro Abidjan Gift" (MACA) by the escapees themselves.
August 4th, 2004: Minister Bohoun Bouabré's communication director Léonard Guédé Pépé better known by the nickname James Cenach, is placed in custody in Paris. Suspected, according to the Ivorian newspaper "Le Patriote" to be involved in the Kieffer disappearance. He is released the next day without charges.
August 11, 2004: Patrick Ramaël launches a procedure of mutual legal assistance with Switzerland to examine bank transactions, possible motive to explain the disappearance of the journalist. This procedure concerns alleged bank transactions from relatives of Paul Antoine Bohoun Bouabré. The latter refutes the existence of foreign bank accounts except at the International Monetary Fund and his daughter's account in Lyon, France ".
January 11, 2006: Jean Oulaï Tony is arrested in Paris
On January 13, 2006, he is indicted and detained at the "Maison d'arrêt de la Santé" for "kidnapping and forced confinement" in the Guy-André Kieffer case.
On February 15, 2006, he is released then re-arrested on October 17, 2007, for "failing to comply with the terms of his judicial control" and "refusal to respond to a summons from judge Ramaël" regarding Berte Seydou's revelations. He will this time around be detained at Fresnes, in the Paris suburbs under convict number 933853 in cell 166. Jean Tony Oulai had left Côte d'Ivoire a year before his arrest following a dispute with authorities in Abidjan. Arrested Wednesday, November 9, 2005, and released by the gendarmerie of Cocody, in Abidjan. According to intelligence received on Friday, November 11, 2006, he was "suspected of recruiting Liberian and Sierra Leonean mercenaries to overthrow the regime ",
August 23, 2007: Seydou Berte, aka Méité, a self-proclaimed eyewitness to the kidnapping and assassination of Guy-André Kieffer confesses to the implication of Jean Tony Oulai as the leader of commando "Cobra", responsible for the disappearance of the journalist. The next day, Mr. Oulai files a complaint to attorney general Raymond Tchimou
On July 15th, 2008, Simone Gbagbo files a complaint against Seydou Berte through her lawyer Rodrigue Dadje,
April 21, 2009: Judges Patrick Ramaël and Nicolas Blot, replacing Emmanuelle Ducos, hear Patrice Baï's deposition. He was head of security at the Ivorian presidential palace in 2004. Several other Ivorian VIPs including former first lady Simone Gbagbo are auditioned in the following days as "witnesses" in the Kieffer case.
July 15, 2009: Charles Rosaire Lago, due to testify against Simone Gbagbo, manages to escape from custody during his transfer from ( MACA) to the Abidjan military hospital (HMA). He has never been recaptured. Mr lago had been in custody since December 12, 2007, for perjury in the Kieffer case. According to Bernard Kieffer, brother of the French-Canadian journalist, the name Charles Rosaire Lago does not appear in judge Patrick Ramael's case file.
July 22, 2009: on French Tv France 3 "Major Alain Gossé" accuses Anselme Séka Yapo aka Séka Séka, a military aide to the first lady of having killed Guy-André Kieffer by mistake. Séka Séka denies this the same day on France 24 and reveals that Major Alain Gossé's is in fact, Zinssoni Nobila Paul, well known to Ivorian intelligence services, a Burkina Faso national born on 1st of June 1960 in Zitougou.
In a country bruised by a decade of crisis, how peculiar could be the kidnapping of a single man, a "nosy" journalist, an idealist scandalized by corruption in the aisles of power as well as amongst opposition leaders all too well known for their shady business practices?
It is now left to Reporters Without Borders (RSF) to try to revive the memory of this "undesirable snitch". RSF called on the authorities to reactivate the investigation, fearing that the case could soon be closed. This would be the second death of Guy=Andre Kieffer. Hopes aroused among the journalist's relatives when Alassane Ouattara came to power in April 2011 have dissipated. Promises made in Abidjan as well as in Paris have not been kept. Kieffer's case is a symbol of the impunity that threatens the future of Côte d'Ivoire.
By Ivory Coast Tribune