Côte d'Ivoire – PDCI. In Yamoussoukro, Candidate Henri Konan Bedié Promises A New Momentum For The Future.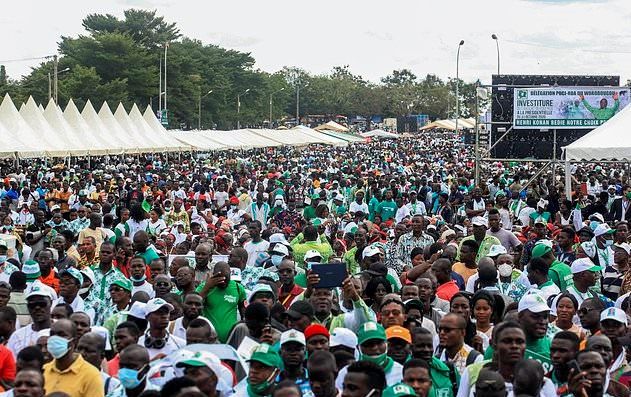 To the tune of "down with those who cannot be trusted", "we have been hoodwinked by the RHDP", in reference to President Ouattara, a former ally who, weeks ago made a sharp U-turn on his promise not to run for a third term in the upcoming election, thousands of PDCI party members gathered at Jean-Paul II square this Saturday in Yamoussokro to back the return of the "sphinx" as president of Côte d'Ivoire, 45 days from now.
As the saying goes, "When the wise points to the moon, idiots only see his finger" said candidate Henri Konan Bedié during a speech full of promises.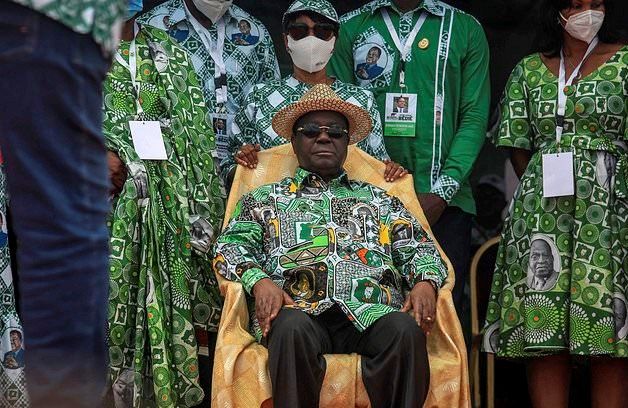 Bédié, the former president who lost power in a coup d'état on December 24, 1999, went all out on the management of once allied ruling party RHDP's macroeconomic model which he said: "generated impoverishing growth from 2012 to 2020, with a rate of over 47%, despite an average GDP growth rate of 7.6% over the same period.
Henri Konan Bedié wants to rebuild Côte d'Ivoire in all sectors.
"The RHDP have never aimed to achieve a better redistribution of our national wealth," insisted Bédié.
"Against this forgery, I will win the upcoming presidential election with all the comrades in the opposition, to succeed in a mission of public salvation for all; especially young people, girls and boys of the new generations". "In a reconciled country, I will promote employability for young graduates, jobs, women empowerment, automation in agriculture, health care reforms, and pledge to stop mass migration of our youth... I am determined and motivated for the empowerment of my fellow citizens. Down with clientelism as instituted by the current government". He ended.
Against a backdrop of the once dubbed futuristic capital city of Yamoussoukro, candidate Bedié vowed to free all political and military prisoners, as well as expediting the return of all exiled sons and daughters of a country in dire need of exorcising the ghost of recent history.
Henri Konan Bedié was handed power in 1993 after the death of the father of the nation Felix Houphouet. After re-election in 1995, he was overthrown in what he calls the "stupidest coup d'état in our nation's history". He helped elect Alassane Ouattara into office twice since 2010, but parted ways with his ally when, according to him, he realised that Ouattara's sole aim was to dissolve the PDCI, one of the oldest parties in Africa into a shady unified conglomerate of political alliances which has since lost its backbone of leaders.
The elder statesman stands as the only man capable of turning the tide in an election where Côte d'Ivoire may be on the verge of reliving the post-electoral crisis of 2010, if anyone goes by the violence witnessed since current president Ouattara announced his bid to run for a third term, after the death of his designated successor Amadou Gon Coulibaly in July of this year.
Published By Claude B. Djaquis
Editor-In-Chief
Meyan Nanguy- Lifestyle Editor
13/09/[email protected]:00
ivorycoasttribune.com