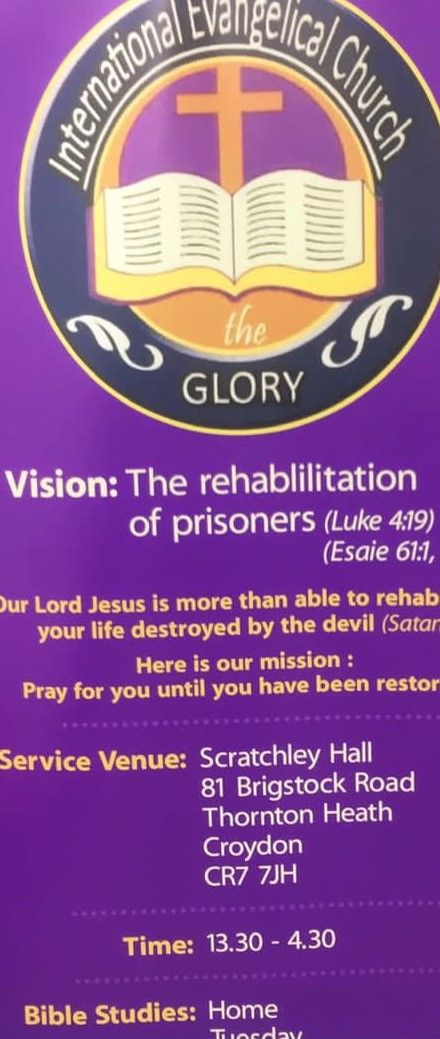 Covi-19 – Heroes. A South London Church takes the bull by the horns, as the pandemic roars into our lives.
Where there is an opportunity to lay a helping hand, Churches are not just a gathering place for people on Sunday to do their thing, but actually, the Body of Christ living and working and serving in their local communities and expressing the Lord's love in that way. Such has been the Credo of a couple, originally from the Ivory Coast.
Adjoa Charlotte and Pastor Koula who have fought tooth and nail alongside other community leaders to reduce crime in the Croydon area by building good relations between young people, training some into mentoring, to improve others' behaviour and to help create a cohesive community for as long as their Church "The International Evangelical Church " has been in this South London side of the town, until the Covid-19 pandemic blindsided the world.
Adjoa and Pastor Joel jumped right at the opportunity to help.
"There is hope where there is a life", said Pastor Koula when we met him after worshipping this Sunday afternoon, for a chat about his work in the community. With "People Link", a new project they have initiated with funding from the " Big Lottery" to help the vulnerable and the socially isolated, especially the elderlies. by offering daily telephone calls and general advice on keeping themselves well during the coronavirus crises.
The list of people in need of a hand includes foremost, Caribbeans, Africans and Blacks from other origins, but also members of the community from diverse horizons, who live in the New Addington and surrounding areas. "People are worrying not only about catching the virus but about paying rent, keeping their jobs, caring for children and paying the bills", said Pastor Joel. Therefore, a good number of people have been identified, who need support for 6 months. We are visiting some, guiding them to local sources of emotional support, talking to them, signposting them comprehensive advice towards sources of support online, using text messaging and using any means to help alleviate the hardships of the pandemic.
According to Adjoa Charlotte, pastor Koula's partner in the project, the volunteering skills they have taught all those who are willing to accompany them on their journey, will be useful for future projects, so they are confident their involvement can only payoff.
Pastor Koula remains confident that the Croydon community can count on his good deeds for years to come.
Published on 25/10/[email protected]:00PM
By Claude B. Djaquis
ivorycoasttribune.com