Brima Mazzola Kamara
After superstar Sam Turray's departure at the end of the 1970s, the 1980s was the decade of Africa Sports' undivided reign over Ivorian football. President Zinsou, with the crank in his hands, was able to dictate the human face of the national championship without any challenge.
With sponsors such as "Les Residences Malardeaux", "La bière 33" and the "Sivomar" to name but a few, he was free to recruit among the best talents in Africa. Thus, a certain Ismaël Dayfan, a virtuoso of the "jogo bonito" with an unparalleled speed of execution, arrived from Freetown, a breeding ground for rare pearls. With him, a "silent killer" who would mark his way into the first division championship and especially the eternal rival Asec Mimosas and his emblematic "goalie" Koffi Kouadio Dino Zoff.
From 1981 to 1984, Brima Mazzola Kamara was on top of the league come rain or shine: Golden boot, twice champion, national cup and cup Houphouët Boigny winner, before living the club to the dismay of the "Oyes".
To enlighten the sporting public and Mazzola fans on the fabulous story of this prolific goalscorer from the banks of the Rokel River, our reporters took advantage of the COVID-19 lockdown following the strict rules of social distancing measures, to discuss at length with the current vice-president of the Sierra Leonean Football Association. Yes, Mazolla the former boy-wonder is now the pride of Sierra leone.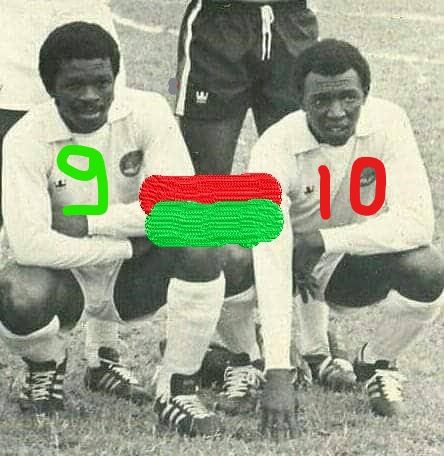 Ivorycoasttribune.com: How are you Mazzola?
Brima Mazzola Kamara: Very well.
I.T: Thank you for agreeing to talk to us. As in the film script technique, we will start with topics that are generally discussed at the end of the interview. Art imitates life so why not? You are currently Vice-President of the Sierra Leone Football Association, but a major fact in this century is that a lady, Aisha Johansen, is its President. That is a tremendous achievement in this male-dominated sport, especially in Africa.
Brima Mazzola Kamara: Thank you for pointing out this exceptional fact in the world of football. As far as Mrs Johansen is concerned, it is no coincidence that our President is in her position. Her father was the owner of Eastern Lions FC. Football is her life. She and her husband own FC Johansen. With my experience abroad, it would have been impossible for me not to fully support the promotion of such an individual.
I.T: Did your support weigh in the balance of her rise to this prestigious position?
Brima Mazzola Kamara: I just want to say that we have worked for our common good, which happens to be football. You see, after 19 years away from home, first for my studies and then because in the meantime the civil war had ravaged my country, I came back in 2007. It was time for reconstruction. I was approached by former footballers, to take over the reins of the federation, but in Africa politic is complicated. Running for the job was very difficult, so the late Moseray Fadika, former boss of "Africa Minerals" took it upon himself to sponsor my campaign in agreement with old guard to form an interest group. With Mrs Johansen, we found a compromise. Not only to promote gender and encourage the development of women's football, but above all to have a neutral personality at the centre of the debates in this highly politically charged atmosphere.
I.T: What are politicians doing in Sierra Leone sport?
Brima Mazzola Kamara: Interest groups have been mingling in our affairs ever since we took office, to the point where we have been suspended by FIFA, not for corruption as erroneously reported by some media, but for political interference in our affairs. For the time being there is a lull and the suspension has been lifted.
I.T: Apart from promoting gender, what else is part of your project for the greater good of football?
Brima Mazzola Kamara: The greater good of Sierra Leone football. It's the least we can do, especially with the kind experience we have. We plan to create an environment conducive to the professional transition into football related activivities, for those who have given everything for the love of the country and football, such as a pension fund and health insurance for the beneficiaries.
I.T: Okay, but these kinds of programmes should not be limited to a group of individuals, right?
Brima Mazzola Kamara: Of course, we want to professionalise football in our country. All the stadiums are empty these days during competitions. It is unacceptable. Fans are coming back but stadiums need to be filled.
The unfortunate thing is that most of our young talents are in Sweden and elsewhere for scraps. We believe that with the support of sponsors and stakeholders, we can offer our young people sufficient means to keep them home. Once again, we need the political will to carry out all these projects.
The former Minister of Sport was of goodwill but he was dismissed before considering implementing our proposals. We continue to work in achieving those goals. We would like to have what "Orange" is doing with Côte d'Ivoire to prevent our talents from disappearing. And that's not all. We are setting in place measures so that football can be beautiful again.
- 1/ each club will have to have a secretariat
- 2 /A bank account
- 3/ A stadium worthy of the name
- 4/ Encourage clubs to incorporate so that supporters and investors have shares in the club of their choice. At the end of the season, everyone shares the dividends. When a supporter pays a ticket to the stadium for his beloved football team, it should not be in vain.
We invite our current professionals to get more involved in what we do because they will soon be in our shoes.
I.T: As an official who has been travelling around Africa and the world, what do you think of the state of African football?
Brima Mazzola Kamara: I will repeat what I said before. We are seriously handicapped by the massive exodus of our players. It may be socially beneficial, which I doubt for the majority, but our competitions are suffering as a result.
Academies are being set up all over Senegal, Nigeria, Côte d'Ivoire, DRC and so on, but real talent is scarce. Young people play for money first. The love of sport no longer exists so it will be difficult to find the likes of Lebry, Miezan and others. The question is how to reverse the trend and bring our fans back to the stadiums.
At our level, we are going to offer a professional league to Sierra Leone. In my second season in Africa, I had a car even though, in retrospect, I realise now that I could have had a lot more, it was a source of motivation. Our administrators and club bosses must have enough resources to prevent the exodus of talent.
IT: We'll soon discuss the circumstances in which you moved to Africa Sports, but tell us why they call you Mazzola, how did you get that nickname?
Brima Mazzola Kamara : as a child in Freetown, I took part in neighbourhood-organised football tournaments, and each selection was named after a national team that had participated in the World Cup. Our team was the Squadra Azura (Italian national team) of which Sandro Mazzola was the most famous player. I was the top scorer of the tournament so football fans started calling me Mazzola. It has stuck since then.
I.T: Is this when you made up your mind about a career in football?
Brima Mazzola Kamara: I began to forge my dream during inter-school competitions. Then, Mr Domingo who used to play for "Western Regions" asked me to join his club. They offered me my first football kits. I started scoring extraordinary goals against tough opponents. Subsequently, former national team coach Manney Peters, who later coached George Weah's team in Liberia convinced me to join the Real Republicans, with whom I played from 1974 to 1981.
My winning mentality stems from the "Real Republicans" fighting spirit. In my early days, they called me the Wizard of the sidelines, because I could do all the trickeries on the wing. I scored a lot of goals and was even voted the best player in Sierra Leone. I earned my first cap with the national team. Ismael Dayfan at number 10 (the one who was at Africa Sports) and me as number 9. In 1979, we beat the Liberian national team featuring football greats such as Sakpa Maya, Benedict Wifey, Walker Aaron and Anthony Agrey who were superstars in their country.
That same year in Freetown we played a warm-up match against the Sily National of Guinee, preparing for the 1980 Nations Cup in Lagos. It was one of the best games of my life although we lost 3-2. My country knew it could count on me.
It was a euphoric period in many ways. In 1980, we drew against Ahsanti Kotoko in Freetown. They were on their way to meet the "Invincible 11" of Liberia in Monrovia a few days later. The Liberian coach asked me the morning after our fixture if i could help his team in Monrovia. Of course I did. During the game, one of the Kotoko defenders started shouting: "hey you, what are you doing here? You played against us in Freetown, didn't you? I performed so well that I was playing for three different clubs in international fixtures.
Away in Guinea Bissau, I helped the "Bai Boieh Warriors" of Freetown beat their opponent. At another occasion, I went to help the "Mighty Blackpool" against "Jeanne d'Arc" of Dakar.
I.T: was that legal?
Brima Mazzola Kamara: Of course, that was all illegal. We were young and the owners were just taking advantage of us. Guinee Conakry was the experts in this field. That's why they seemed invincible. There was no database to register the players. It became common practice all over Africa.
I.T: you joined Africa Sports in 1981. The team was still groggy after Sam Turray, another striker from Sierra Leone left acrimoniously. Did you know him?
Brima Mazzola Kamara: Sam was a pioneer we all admired. He's a Guinean who was naturalized to play for my country's national team. What talented player he was!
I.T: How did you end up with the " Aiglons" then? did he have anything to do with it?
Brima Mazzola Kamara: It was through Cheick Ibrahim Fofana, a Sierra Leonean journalist who was working in Côte d'Ivoire. During a conversation with Simplice Zinsou, he asked if he could find him a couple of good players in his country.
Later, Ismael Dyfan's Eastern Lions were on a stopover in Abidjan after a match in Upper Volta (now Burkina Faso). The journalist informed Zinsou that one of the players he might be interested in was due to play a friendly match against Stella of Abidjan. After the meeting with Simplice Zinsou, Ismael came back home to inform me because we were best buddies in the national team.
I.T: What were the clauses of the contract, if it is not indiscreet?
Brima Mazzola Kamara: There was no contract. My club refused to sign my release letter. There was never any discussion about an amount to be paid to us or our respective teams. We were young, ignorant, with no manager or adviser. As far as I was concerned, it was Africa Sports or nothing.
My club demanded a contract, but I was looking forward to being in Abidjan. In retrospect, it was a big mistake, but a major step by all means. Now I must admit that if a club is interested in a youngster, the whole thing should be done within a legal framework because business should benefit the person who adds value to it. Our experience should serve as a lesson.
Anyway, we went straight to training the day we landed in Abidjan to meet our new team-mates.
The same week we beat Gadji Celli's Stella of Adjamé in the National Cup ¼ finals (2-1). I scored one of the goals. In record time, Coach Nomovich disciplined my game. In the ½ final, we defeated rivals Asec Mimosas 2-1. I scored again.
I.T: Have you always played centre forward?
Brima Mazzola Kamara: As I said earlier, I was also called the sideline wizard because of my dribbling skills on the wings, but in Abidjan, the coaches developed my strength and my positioning as a centre forward. I can still remember our winger, Adama Coulibaly; what a speedster but he had difficulty concluding, so the instructions were simple and firm from the coach. Do whatever you have to do and look for Brima at the end to score. (Laughs). Above all, there was that other genius, Pascal Miezan, he always knew where to find me to punish the opponents.
I.T: What was your overall impression of the Ivorian league?
Brima Mazzola Kamara: I liked the passion for football in that country. From the 60s to the 1990s, seen from the outside, Côte d'Ivoire had a solid foundation. I was like a child in a candy store in the truest sense of the word. There, we met footballers from all over Africa. I was voted best player, I won the championship twice, two national cups and two Houphouët Boigny cups in three years. I loved the experience. Nothing at all comparable to Sierra Leone at the time. I hope that those in charge of football are thinking about perpetuating the values of the olden days. Life in Abidjan was beautiful. From the police to ordinary citizens, everyone admired us. Côte d'Ivoire is my second homeland.
I.T: Which players impressed you the most?
Brima Mazzola Kamara: Of course, the late Pascal Miezan. Very intelligent as a footballer. Players like ASEC's Youssouf Fofana, my other teamates Lago Patrice, Monguehi François and the man with the magic head, the late Lebry Manahoua. The likes of the late Gnahore Emile, who was going very fast from his right-back position to put pressure on the opposing defence.
I.T: Did you ever use witchcraft or so-called black magic? Rumours of Africa Sports and JUJU was swirling around when you played in that team.
Brima Mazzola Kamara: I was born a Muslim. When I moved to the States, It became difficult to practice my faith or pray because there were no mosques around where I lived. My wife is Christian, so I followed her to church because we pray to the same God anyway. I am now a Christian. I have always prayed to the Lord in my football career. Once, I was injured by Monguehi François during practice, where my foot required a cast for a small fracture. I missed out on my second golden boot because I did not play for a few weeks. So, whilst I was resting at home, some stranger came up to me. He said he was a native doctor and a fan. He claimed to know whoever put a spell on me and that I could no longer score goals if he hadn't done anything. With his beads, amulets, grigris and paraphernalia, It had me thinking, but I just gave him a little bit of money for his efforts and off he went. All I did in my playing days was pray to the Lord.
I.T: Why did you leave if you loved the country so much?
Brima Mazzola Kamara: Look, the lack of a contract with the club and the growing negativity of some defenders convinced me that I had to look elsewhere. I was seriously starting to be targeted by some defenders like Guidi Ignace, who stuck both of his feet in my chest during a match. I was taken out for treatment but as soon as I came back, Miézan Pascal served me a golden assist on a platter for a goal. We beat Stade d'Abidjan 1-0, but it was getting more and more dangerous.
You know, I was approached by Joyer Yacine of the newspaper " Fraternité Matin" on behalf of PSG but we were in the off-season. Several clubs were interested in me and I know Mr Zinsou was hiding it. He confided to me one day that he wanted me to give him another year if I wanted to leave the club. He knew the offers were coming from all over. Too bad! Still, letting me go with confidence would have benefited Africa Sports.
Eventually, friends in the United States informed me that universities were offering sports and study scholarships in Indiana and California. I opted for the American scholarship. At least with education, I could hope for retraining. My fiancée at the time, who is now my wife, helped me in my decision.
I.T: What was your salary with Africa?
Brima Mazzola Kamara: I was paid 300,000f CFA / month + bonuses + a car and an apartment. On the other hand, I insist that with a contract, I would have had certain guarantees in the clauses. That's how I made the decision that I had to guarantee my future, so I left to study Business, Insurance and Real Estate. I came back to Africa Sports in 1986 for one year. This time with a contract: 10,000 US dollars in addition to bonuses and an apartment. The club had a doctor so I didn't need a health insurance policy. I insist that today, these are things that would not have happened with the billions that are pocketed by young people. Those days are over.
I.T: Why was your second spell so short?
Brima Mazzola Kamara: I was no longer the athlete of 1981. We indeed won the cup against the dissident former players of Africa Sports who had gone to form the AUC team *** (Kobinan, Sekou Coulibaly and others), but Ismaël and Antoine Bell had gone to the Arab Contractors. What's more, football in the United States was at an average level, so I'd lost my mojo. After six months, I went back to my family. Since then, I've lost contact with President Zinsou, but my friend Sékou Coulibaly keeps me posted on the country all the time. He was instrumental in my integration in the "Oyés" family.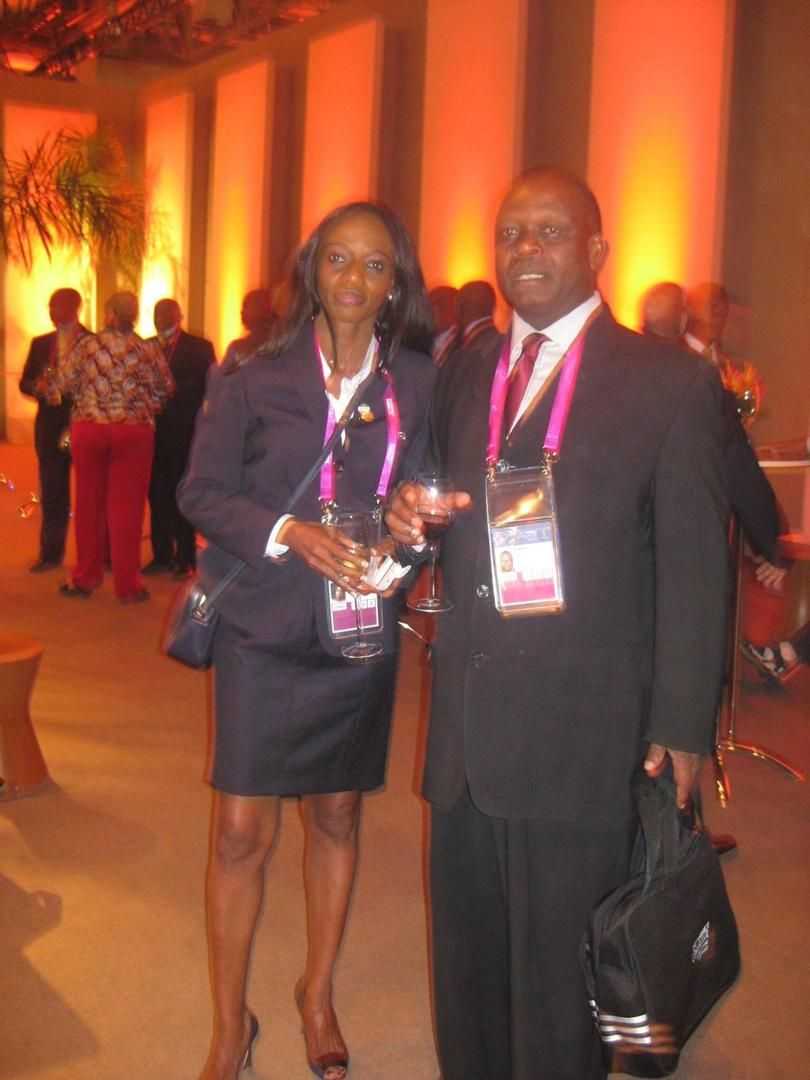 CAF-Sierra Leone F.A President Aisha Johansen and Vice-president Brima M.Kamara.Photo/Kamara Files.
I.T: You have been very successful in your career. Do you have any regrets?
Brima Mazzola Kamara: Our era was not known for the management style that surrounds modern football. Many gifted footballers were not able to take advantage of their talent. It's often said that they played for the love of the game, but it must be said that those who managed the sport did nothing to help all those naive talents. In Abidjan, I didn't have an adviser, but let's say it was my destiny. Abidjan served as a springboard for me to forge my future. I have five daughters who are well educated. One of them is the writer Veralyn Kamara. I thank the almighty for his blessing.
I.T: Do you have a word for your former foreign teammates at Africa Sports?
Brima Mazzola Kamara: I met Antoine Bell two years ago in my position as Vice-President of the federation. It was in Cameroon. He lives in Douala, but he arranged to join me in Yaoundé for a nice meeting. We keep in contact. As for Ismael, we've had some very emotional moments during the confrontations at club level in Freetown, with the national team and with Africa. After Egypt, he returned home where he was a coach, but in 1986 his health began to fail him while I was in Sierra Leone for a match. At the USA level, we mobilised for his care. A charitable soul transferred him to China for treatment. There, he was told he had advanced-stage cancer. When he came back to Freetown, we arranged to fly him to the U.S.A for further tests but he had the same diagnosis. My dear friend chose to be buried in Boston in 1996, because he was not happy about the lack of support from the government at the time. His children are in the United States.
I.T: Mazzola, what is a typical day like for you as a federation boss?
Brima Mazzola Kamara: It's the management of football in my country. What more can I ask for? As you know, with the global crisis due to COVID-19, we are forced to work either via the Internet or on the phone until the government tell us otherwise. Our academy facilities are currently being used by the government in its coordination of the response to the pandemic. That means we are 100% involved. Health and Sport go hand in hand. I pray that the almighty God will rid us of this evil that has gripped the entire planet. Football, the fans and the whole system are devastated but we are keeping hope alive.
I.T: Mr Brima Mazzola Kamara, the "sacred footballing monster", now Vice-President of the Sierra Leone Federation. Is there a message you would like to convey as we end this interview?
Brima Mazzola Kamara: To the youth, I can confirm and I believe that opportunities abound throughout the world, but you have to be disciplined and not forget about education if possible or any kind of training for that matter, because the career of a sportsman is very short. Train to be ready to face the realities of life.
I'm happy to have had the opportunity to meet the fans again through your magazine "Ivory Coast Tribune", which brings back to life, memories of former football personalities of the continent. You have my full support. Indeed, we didn't enjoy financial wealth in our time, but thanks to the way the sport was organised in your country, some of us have been able to enjoy what we are doing now. Several foreign players were successful thanks to that country, which is my second homeland. I would not hesitate to return to Côte d'Ivoire for its legendary hospitality. I learned that my Club, Africa Sports, is going through difficult times but I am convinced that a good owner will rekindle the flame of happiness for us all. Your magazine enables us to relive great moments in the history of African football. Thank you for the wonderful project. We will encourage sponsors to come on board.
To the new generation of professional football players don't forget to create alumni associations in each country, because there is life after football at home. Today is the right time to prepare for "The after football" and help the youth.
To investors around the world: we urge you to come in Sierra Leone for a project close to the heart of our football association. Help us build the state of the art facilities which we are lacking for academies. We are willing and ready to guarantee satisfactory returns, because talent is in abundance here. You will not be disappointed.
Long live football!