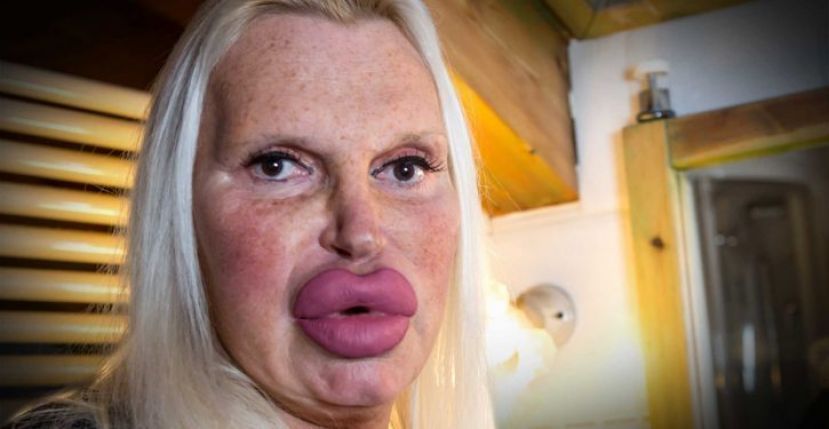 Man spends 46,000 euros in surgery to have a face and "perfect" woman's body (Photos)
photos:Barcroft Media.
Fulvia Pellegrino from Peveragno spent astronomical sums on surgery for her sexual transition.
By age 15, he felt like a woman and waited for the right moment to live his life in the open. Fulvia has since gone many times under the knife in search of the "perfect face". Four breast augmentations, 150 cheek hyaluronic acid interventions, long procedures that were essential for Fulvia. Today he still lives with his girlfriend but their relationship has changed. A testimony relayed by our colleagues from the Daily Mail.

This Italian transgender woman has hidden her desire to change sex for more than 40 years. She says she spent more than 46,000 euros trying to gain that woman's body she dreamed so much of.

150 lips and cheekbones injection, four breast implants and two sets of liposuctions, as many surgical interventions to end looking like she does. Born Fulvio, he now enjoys the full support of his wife Marisa, who knew him as a man. After her recent operation of the buttocks, she plans other interventions to get the result of her dreams...
Marisa admits that her relationship with her transgender husband has changed dramatically since the multiple surgeries. The wife explains that she now considers Fulvia as a sister rather than a partner always in search of perfection.

The Italian transgender does not intend to stop there in terms of surgery. "I'm not happy with my perfect body. Perfection is something else "Marisa is the only one to support Fulvia's physical transformation projects. She was only 15 when she realized that she was really a woman and she was going to have to keep this secret for a very long time. And for good reason, his family was rather conservative and religious and his father was part of the clergy. Discouraging circumstances to confess the heavy burden, even when she met his wife Marisa 32 years ago. Shortly after his marriage, Fulvio began frequenting gay clubs and cross-dressing. She explains, "I felt trapped in my body. I hid in the garage and put on my makeup as a woman. I never showed that side of myself because I was ashamed of it "
To hide his secret, Fulvia would have to play the role of a virile man in an Italian traditionalist society. Luxury cars, firearms, all to establish his masculinity. Yet he had to come out of the closet. She says, "It's hard to grow up with a body that's not yours. You try to hide it by playing football, drinking beer, buying SUVs and shooting guns to feel like a man. Yet, you know full well that it is a mask and that you must become what you are. One day, Fulvia confessed it all to his wife.
After finally coming out his relationship with Marisa took another dimension. "Obviously, Marisa is lost, it is not something that is easy to accept. Today, we are only two sisters. We live together, we fight as two normal people, but not as husband and wife»: he says. Yet Marisa helped Fulvia thru his sexual transition. For this, she consulted a psychologist to help her adjust to her new life. It was then that Fulvia began her physical transformation, with several breast augmentations and injections of hyaluronic acid on her face. The transgender woman had to sell her firearms, her cars and a house in France following a financial stalemate. Today, the couple is getting by with Marisa's salary and holistic therapist, to help Fulvia get the look she wants.

For transgender people, the sexual transition can take years. Thanks to therapeutic and medical support, they can finally develop a more positive relationship with their body and resort to genital surgery. Following a hormonal treatment and a sexual reassignment, sexuality is experienced in a more fulfilling way because the body corresponds to the gender to which the person identifies.
Update on 10/07/2019