Urbanization or gentrification got the better of one of the most infamous shantytowns of the district of Abidjan: "Boribana" or the end of the road in the Malinke language is located in Attecoubé on the bank of the Ebrié lagoon.
On Saturday November 30, reality hit hard when, as a prelude to the first pillars of the 4th bridge of Abidjan, began a vast campaign of eviction by bulldozers in the ghetto of ghettos. Well over 13000 people summoned to clear more than a thousand " favelas" in lieu of the 4th bridge of the economic capital.
The 4th Bridge is one of the major projects of President Ouattara.
7.5 km long, the infrastructure estimated at more than 147 billion CFA, will ease commuting in and out of major boroughs such as Yopougon, Attécoubé, Adjamé and Plateau across the lagoon.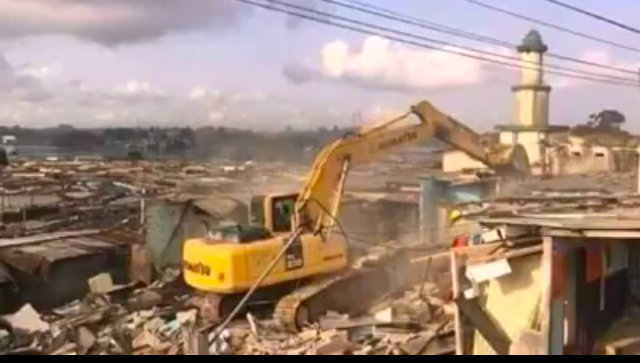 "Boribana" will make way for a 0.603 km interchange forming a south ramp of 0.540 km, a north ramp of 0.755 km; and a 4 ways 0.875 km long carridgeway to the "Indénié" junction.
To prevent the risk of violence, the army and law enforcement were massively deployed in this crime-infested area whilst buildings, mostly made of recycled materials were mushed into rubble by bulldozers.
A heavy price to pay for families in this festive season but none of this was unforeseen according to officials, as compensations were paid and resettlement agreed years ago.
Fédé Diakité moved into the neighborhood in 1986. His kiosk and shack already emptied, are in the neighborhood. His wife, nine children, and two little brothers lived at home. The kiosk employed three people. "I have no work, no house. Everything is in the hand of God. I did not receive any compensation.
"The houses destroyed today are those for which the owners have received their eviction compensation," says Coulibaly Salimata Tiegbala, deputy coordinator of the urban transport project in Abidjan.
"Studies started in 2016. Tenants have been identified .There may be omissions. Some offices are open for them to be taken care of, "she said.
Some 34 billion FCFA (51 million euros) of the project are intended to compensate or relocate these slum dwellers, according to the government, but they do not know where to go next.
The bridge has already begun to emerge from the water and Chinese workers, helmets on the head observe the advance bulldozers that destroy house after house, causing the concrete walls to collapse, sometimes next to the inhabitants of the houses. Neighbors flee at the last moment, just in to recover the last memory or precious object. "We do not have a choice. We go in and get what we can, "says Sanogo Salia, a married man with two children who makes a living by filming functions. "We do not have money to go elsewhere," say tenants who claim to have received no compensation.
Same answer from Sako Kadiatou, a 38-year-old widow who has been living in Boribana since 1998. "I do not know where to go. We are waiting, "she laments, assuring that 35 people live in her yard and no one has money. "To relocate, you have to pay a deposit ranging from 300,000 CFA to 400,000CFA (450-600 euros). We do not have this kind of money, "insists Ibrahim Diakité, a taylor. "Three years ago, they took our details down, but since then nothing. We stayed and now we are sent away with nothing. "
Moussa Koné is standing in front of his 80 years old mother who can not move. "I do not know where to take her," he worries. He had a small business where he stored glasses or rugs to be sold on the boulevard next to slum. "The bridge, we know it is good but if we had money we would have gone elsewhere. I was born here, I grew up here and I have nowhere else to go. "
At last, Urban Transport for Abidjan (PTUA) has confirmed that displaced illegal slum dwellers affected by the fourth bridge project will be offered government-subsidized housing in Songon and Anyama. They could be given keys to their new properties before the end of 2020.
Published by Ivory coast tribune.
Photos by censors.