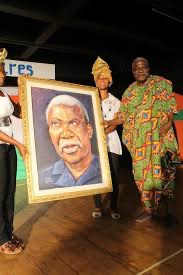 25/06/2019-Bitty Moro: Death of icon.
The actor and his self-portrait. Photo/other source.
The Ivorian cultural world is today mourning the passing of veteran actor and playwright Bitty Moro aged 80, according to sources close to his family. Mr. Moro was a pillar of culture during the heydays of Ivorian theater and cinema. Hailing from Tiassalé in the Agneby-Tiassa region, Mr. Moro had been enthroned village chief after retiring from the industry.
For decades, Bitty Moro was a leading actor in film and theatre until he was appointed the director of the National School of Theater and Dance at Insaac, thus training many well-known artists. Bitty was born in royalty. His death is a great loss for the culture as a whole. He will be sorely missed.
By Ivory Coast Tribune