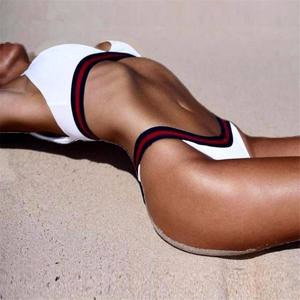 Lifestyle Experts raise concerns about the super high-cut bikini trend: 'The look is not for everyone'
Elise Solé Fri, 5 Jul 19:10 BST
Loincloth, cl** hammock, front thong, v-floss.
Whatever you call it, the high-cut swimsuit has made its summer return, with celebrities like Khloé and Kim Kardashian, Jennifer Lopez and Emily Ratajkowski taking the plunge ahead of National Bikini Day on July 5.
"High-cut suits, whether they're full-piece or bikini, require a level of confidence and boldness because they draw attention to the crotch — the look is not for everyone," Marie Denee, creator of The Curvy Fashionista Style Expo, tells Yahoo Lifestyle, adding that both conventional and plus-size markets fan over the trend.
The skimpy suit is a 'gram favorite. This year, a dangerously high-cut swimsuit from Australian retailer Beginning Boutique drew so much controversy that sellers parlayed the press into a cervical cancer awareness campaign. "I had a less intrusive smear test today," a social media user reportedly gawked at the barely-there bottoms.
One-piece suits have also co-opted the trend. A $25.99 high-cut Dixperfect swimsuit on Amazon offered in 18 brilliant shades caught attention in February for being universally flattering. And while not exactly a swimsuit, "Front Thong Bodysuit" sold by Boohoo was declared, "The world's worst front wedgie" on British site Mumsnet.
But are these '80s-inspired looks practical, water-safe or healthy?
Well, consider your water goals — not all suits are ideal for swimming, splashing, sports or sunbathing. Recently, a Pretty Little Thing customer learned that her $60 bikini was marketed strictly for "poolside posing" — not water — when the fabric's blue dye stained her skin.
"Over the years, bathing suits have transformed from being functional to fashionable and that's been a concern for water safety," Bernard J. Fisher II, director of health and safety at the American Lifeguard Association, tells Yahoo Lifestyle. "Remember the purpose of the suit." So, if the fear of unintentional front-or-back wedgies or revealing too much skin distracts from safe swimming practices or enjoying the moment, re-think the style.
Yes, all suits are fitted but if high-cut bottoms feel too constrictive, there is a risk for yeast infections. "Wearing anything that chafes or irritates the vulva could potentially disrupt its natural protective barrier and invite infection," Jennifer Conti, M.D., clinical assistant professor of obstetrics and gynecology at Stanford University, tells Yahoo Lifestyle. "The skin on the vulva is more sensitive but we often don't treat it that way. It needs good air flow with loose, breathable clothing."
And if the bottom is pulled too tightly over the hips, warns Tami Rowen, M.D., an OBGYN at UCSF Medical Center in San Francisco, Calif., there's potential to constrict superficial nerves under the skin. "Although that would be rare," she tells Yahoo Lifestyle. "The main concern is discomfort."
According to style and beauty expert, Denise Caldwell, while high-cut styles gives the body an elongated appearance, there is concern over glamorizing another part, in this case, "thigh brow" — the soft crease of flesh between the crotch and hips when women kneel or bend forward. "Celebrities have teams to accentuate their choice body parts," she tells Yahoo Lifestyle. "Sometimes revealing styles can pressure women to obtain the 'bikini body' style of the moment."
According to Denee, the "safest" way to wear the high-cut look is to prize fit over fashion. "Can you swim or walk it? Remove it easily? Are the sides digging into your hips?" she says. "You should be comfortable because this look is unapologetic."