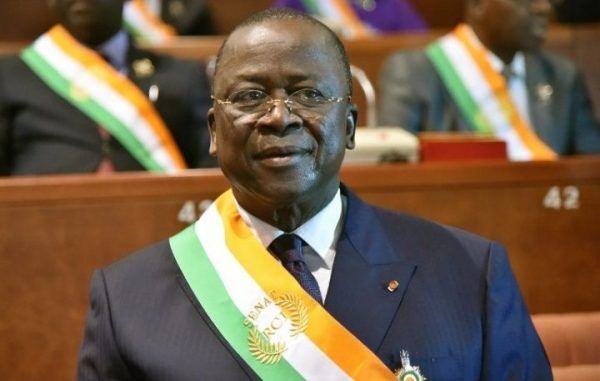 Ivory Coast tribune
Friday August 23, 2019
Ivory Coast senate President. Ahoussou Jeannot. Photo/other source.
These days, the noble ambition of Jeannot Ahoussou-Kouadio is to reconcile Henri Konan Bédié and Alassane Ouattara. The tricky part of the exercise is the fact that he has not been mandated by either of both men, nor does he take any concrete steps towards approaching them in an atmosphere electrified by recent visits by the PDCI to two former inmates of the ICC prison, namely Gbagbo and Blé Goudé.
He only seems to voice his wishes during rallies. The president of the Senate sees it fit not to promote the RHDP before an audience hostile to his party.

In Dimbokro where he last spoke, after Bocanda, in the N'Zi region, Jeannot Ahoussou-Kouadio again reiterated his wish to reconcile Bédié and Ouattara, without the approval of both concerned and in the presence of actors not only foreign to these two personalities but unable to help.

"I kneel, I beg your pardon, get up, go and ask our father Bedie for forgiveness. Do not accept their division. Let's sit down and settle the dispute between the two brothers.

It is thanks to Bédié that Ouattara was able to climb the tree, but today he doesn't want anything to do with him. Do not accept this. You must help. I rely on you, Dimbokro people to bring peace between the two men who are native to your region because we want peace. Your time has come. Let's go get Bédié and bring him back to the RHDP.

Let us go, if possible, to the oracles so they may show us the way to bring peace between Bedie and Ouattara. "

Does Ahoussou need to travel the Baoulé country to get Bédié and Ouattara to the negotiating table? Would Amadou Gon Coulibaly agree that Ahoussou makes the same speech in the strongholds of the RDR in the North? The swampy political spectrum of 2020 Ivorian politics is getting murkier by the day.