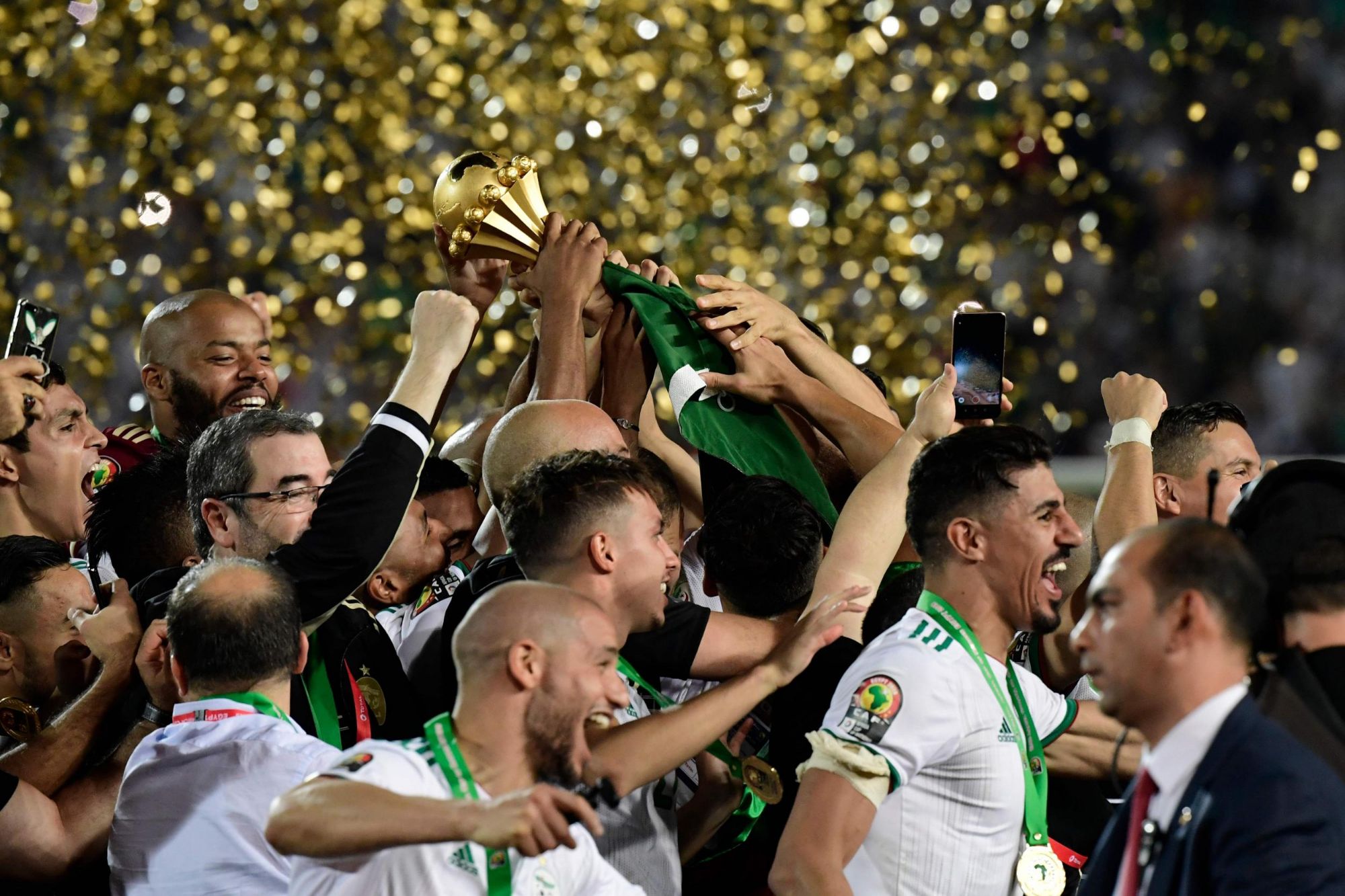 July 29th, 2019.
Posted by Ivory Coast Tribune.
Photo:Standard.co.uk. Algeria victorious.
The lanterns finally faded away on the 32nd edition of the Africa Cup of Nations on a steamy July night in Cairo, Egypt.
Let us face it, it was a collective disaster. Egypt, in an attempt to rescue CAF after Cameroon's inability to organize its AFCON, has rather laid bare the deficiencies of an African football confederation whose pyramid seemed to be collapsing days before the tournament, with president Ahmad Ahmad facing allegations of corruption in Paris.
A President who seemed more concerned about threatening to punish Cameroonian female amateur football players unable to understand new Video Assistance Refereeing (VAR) which, female referees themselves did not seem to grasp. No wonder CAF itself insisted VAR could only be tested at the quarter-finals stages in its competition.
24 teams with drastically below-average skills considering that 90 percent of the players were professionals, vastly empty stadiums and mediocre game tactics were damaging to the promotion of African football and the beautiful game. Not to mention the ever-present foreign coaches rewarded with millions of dollars of taxe payers' money, the majority of whom would not even be recruited for a third division team in Europe.
The worst was to come when the host country was knocked out of the competition early on by a South African team full of inspiration on the day.
The Egyptian public showed no further interest in a below-par competition until the finale in which Algeria prevailed by a "freak" goal scored 2" into the first half by Bagdhad Bounedjah.
Liverpool's Sadio Mane and his senegalese teamates were unable to overcome their deficit during 87 minutes unworthy of a continental football finale.
It is high time to overhaul this budget consuming competition. Even though football continues to arouse the enthusiasm of aficionados all over the continent, one must recognize the inability of ordinary Africans to afford three meals a day let alone attend expensive football matches. Furthermore, cable TVs are now offering televised broadcast of these matches that are definitely not in the scope of their purse.
It might be advisable to offer free entry to the games whilst increasing the costs of live televised broadcasts.
Good luck CAF and long live the "jogo bonito".