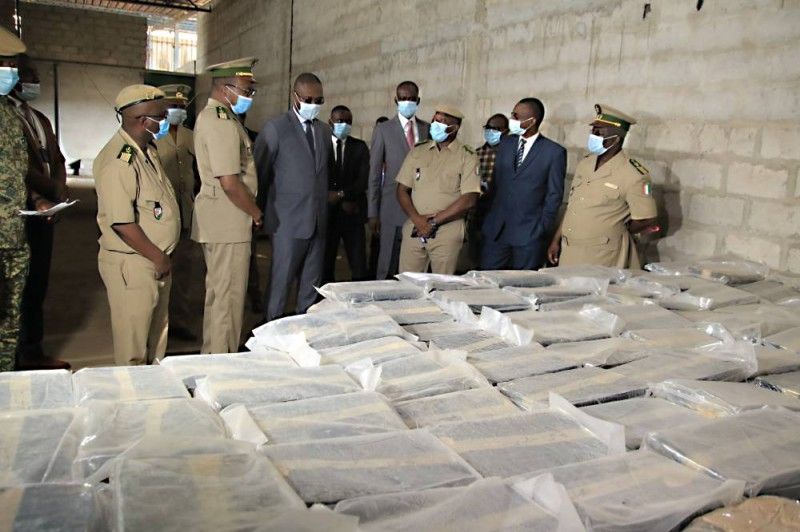 Abengourou - Major drug bust!
5 tons of drugs seized on 31 January and 25 May 2020 by the surveillance squad of Abengourou Customs Directorate were presented to Minister, Moussa Sanogo, at the Mobile Rapid Intervention Unit (UMIR) in Abidjan/Yopougon-Gesco.
The first bust consisted of 1,652 cannabis packets weighing 2.8 tons, in addition to 1,100 cannabis packets totalling 2.2 tons All, for a market value of approximately 300 million FCFA.
Both trailers carrying those narcotics were also seized by UMIR.
During this visit, 487 packages of fraudulent goods seized on 28 April 2020 by UMIR elements in the Tonkpi region were also presented to the Minister. These included 184 parcels of cigarettes, 09 parcels of motorcycles, 10 parcels of loincloths, 04 parcels of motorcycle parts, 03 bags of powdered sugar and 265 parcels of unregistered pharmaceutical products (PPNE).
With this achievement, Moussa Sanogo congratulated his men and urged them to remain determined. "We have men of duty. We are happy with the quality of the work done".
To strengthen the effectiveness of his squad on the ground, the minister reaffirmed his commitment to equipping the customs posts at the borders with electronic tools, including scanners.
By ivorycoasttribune.com
Published On 05/06/[email protected]
Modified 05/06/[email protected]: 05 PM